Happy Thursday all! Today, I'm participating in Tag Thursday — which, as far as I can tell, is… when bloggers do tags on Thursdays. The name is pretty self-explanatory, I guess.
The Perfect Book Tag was created by Sofii at her lovely blog A Book A Thought, and I stumbled upon it on my Internet wanderings. Nobody tagged me, but this tag looked so fun that I decided to steal it. Because that's how you justify tag thievery.
The rules are:
Answer honestly, there are no wrong answers.
To make it just a little harder, you can't mention the same book twice.
Have FUN!
Tag me if you decide to do it, I would love to see your answers.
Tag at least 5 people.
So let's get started!
The Perfect Genre // Pick a book that perfectly represents its genre.
The Book Thief by Markus Zusak. I mean, this book is the epitome of historical fiction. Not only does the reader get to learn about life in Nazi Germany, we get all kinds of literary merit, including DEATH as the narrator.
The Perfect Setting // Pick a book that takes place in a perfect place.
The Unlikely Escape of Uriah Heep by H. G. Parry. If you don't think a place where fictional characters live down the street is perfect, I am of the strong opinion that you need to reassess your priorities in life.
The Perfect Main Character // Pick the perfect main character.
Cath from Fangirl by Rainbow Rowell. Cath is such a relatable awkward bookworm who regularly thinks deep bookwormish thoughts such as:
To really be a nerd, she'd decided, you had to prefer fictional worlds to the real one.
On top of that, she writes PHENOMENAL fan fiction.
The Perfect Best Friend // Loyal and supportive, pick a character that you think is the best friend ever.
Rev from Letters to the Lost by Brigid Kemmerer. All throughout this book, Rev is an incredibly supportive friend. The way he listens and talks to Declan is, frankly, admirable. And he's no less so in his own companion book, More Than We Can Tell.
The Perfect Love Interest // Pick a character you think would be an amazing romantic partner.
Grey from A Curse So Dark and Lonely. Gosh, this question gave me an existential crisis. There have been so many love interests in my bookworm career, but Grey is undoubtedly one of the most lovable ones. He's loyal, dutiful, funny, and just AMAZING. Lia Mara has no idea how lucky she is.
The Perfect Villain // Pick the character with the most sinister mind.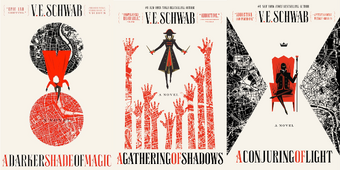 Athos and Astrid Dane from A Darker Shade of Magic. There's a thin line between redeemable and unredeemable, and the Dane twins crossed it three books ago. They are evil for the sake of being evil. They're so evil, it doesn't even matter that they don't have a motive. Actually, they do have a motive. Which is TO BE EVIL.
The Perfect Family // Pick a perfect bookish family.
The Rampion 214 crew from The Lunar Chronicles. I love a good found family trope, and until I finally get around to reading Six of Crows, Cinder's ragtag group of misfits is unquestionably my favorite.
The Perfect Animal or Pet // Pick a pet or a fantastic animal that you need to see in a book.
In The Unwanteds series by Lisa McMann, one of the main character's best friends is Simber, a stone statue of a lion brought to life. With wings. I need more flying felines in my books.
The Perfect Plot Twist // Pick a book with the best plot twist.
A Torch Against the Night by Sabaa Tahir. This book was an emotional rollercoaster. I went in with spoilers, but that didn't make any of the plot twists any less hard-hitting. (Also, is it just me, or does that cover take your breath away every time you look at it? Beautiful.)
The Perfect Trope // Pick that trope that you would add to your own book without thinking.
Morally gray all the way, folks. Morally gray characters are so magnetic. They are a staple in all the books I truly adore.
The Perfect Cover // Pick that cover that you would easily put on your own book.
Rebel by Marie Lu. I love how this cover goes along with the covers of the original trilogy, but with a spin that's all its own. And plus, that explosion of blue is just gorgeous.
The Perfect Ending // Pick a book that has the perfect ending.
Salt to the Sea by Ruta Sepetys. The ending to Salt to the Sea was heartbreaking. But I loved the way we get closure about all of the characters, who all ended up where they needed to be. Even Emilia. 😢 It was the perfect ending.
That's it for today! This tag was so fun to do. So many things in the world are going wrong, and it feels refreshing to reflect on some of the things that are the closest I can think of to being perfect.
I tag: Soph @ Soph's Book World // Lili @ Lili's Blissful Pages // M. T. Wilson @ The Last Book on the Left // and anyone else who's interested!
Keep reading,
Abby
How about you? Who is your perfect bookish love interest? What books have you read with the perfect plot twist?