American Royals was a fun romp through alternate history timelines, royal drama, romantic drama, and family drama. There wasn't much of a plot to speak of, but it makes up for it with its fully fleshed-out characters, which I loved. Plus, the drama. Did I mention the drama?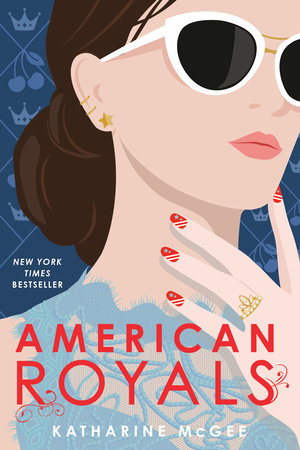 Title & Author: American Royals by Katharine McGee
Genre: Young adult, romance, contemporary
Publication: September 2019 at Random House Children's Books
Format: E-book
First Impressions: "The duty. The intrigue. The Crown." Cue the angst.
George Washington's acceptance of the crown after the Revolutionary War set in motion centuries of the reign of the House of Washington. Now, 250 years later, King George IV sits on the throne, and the royal family is the face of America. Beatrice, Samantha, and Jefferson are the next generation of the House of Washington, and each of them is stifling under the limits that their positions bring. From forbidden love to romantic misunderstandings, there's no limit to what the American royals will do for a chance to taste the freedom that love brings.
"Say you want to make things right, to build a better future. But erasing the past — to worse, trying to rewrite it — is the tool of despots. Only by engaging with the past can we avoid repeating it."
Abby the Bookworm: 4 STARS
American Royals is perfect for when you're feeling down and in need of some royalty angst. I had a fun time cavorting through Washington, D. C., with the American royal family.
Being that this book is set against a backdrop of an alternate history timeline in which George Washington became king of America, there were plenty of references to Revolutionary America sprinkled throughout. My inner Hamilfan sparked to life with the mentions of Democratic-Republicans and Federalists.
The alternate history timeline, in itself, was fascinating to read about. The way that McGee reimagines America into a monarchy was convincing and addictive.
There were four POVs in American Royals. I have mixed feelings about the narrators.
We have Beatrice, heir to the throne, future first queen regnant of America. She's stifling under the limits that her position places on her, and is desperate for having something of her own other than doing what she's told. Her sizzling romance with her guard Connor had me swooning. What can I say — I have a thing for guards.
We have Samantha, the spare to the heir to the throne, who doesn't know where she fits in and what to do with her life. I loved reading about how she finds what she is passionate about and the eventual bond she forms with her family. She was definitely my favorite. Plus, her love interest Teddy was an absolute heartthrob.
We have Nina, Sam's best friend and a commoner. Her friends-to-lovers romance with Jeff was all kinds of sweet, but I found her to be extremely frustrating at some points in the story. I get that she felt frustrated and upset about always being on the sidelines, but the way she assumed that Sam and Jeff would place her above everything else in their lives really got on my nerves.
And we have Daphne, an upstart in society and Jeff's ex-girlfriend. She… is an interesting character. Her questionable motives and her ruthless ambition were certainly a contrast to the picture-perfect consciences of the other three narrators. I didn't like her that much, but I think that was the point.
There are darker themes in this book too, like how poisonous the media can be, as well as the expectations that society places on young women. It was interesting to read about how the four very different girls reacted differently to what society expected of them.
I started American Royals expecting a nice fluffy standalone, and I admit I'm sort of disappointed that there's a sequel. But then again, I'm still excited to read it, especially after that not-quite cliffhanger (hillhanger?). Bring on all the drama.
Abby the Christian Bookworm: JOY
All of the narrators of American Royals could do with some more joy in their lives. Beatrice, Sam, Nina, and Daphne aren't satisfied with their lots in life, and they go through a lot of anger and bitterness throughout the course of the book. But through these characters, we can remember that temporary dissatisfaction is nothing in the face of the joy that the Holy Spirit brings when you believe.
Psalm 16:11 (NIV): You make known to me the path of life; you will fill me with joy in your presence, with eternal pleasures at your right hand.
Keep reading,
Abby
How about you? Have you read American Royals? What did you think of it?