Up until a few days ago, I hadn't read a properly romantic YA contemporary since April (and no, American Royals doesn't count). It's completely unacceptable. I was virtually drowning under the weight of the rapid-fire plot twists and morally significant metaphors of O. Henry and Edith Wharton until Of Curses and Kisses rescued me from certain death by classic literature. I would love this book for that reason alone, except that it took me by surprise with the depth of its characters and the sizzling romance.
TITLE: Of Curses and Kisses
AUTHOR: Sandhya Menon
GENRE: Contemporary, romance, young adult
PUBLICATION: February 2020 by Simon Pulse
PAGES: 372
RATING: ⭑ ⭑ ⭑ ⭑ ½
OFFICIAL BLURB

Will the princess save the beast?

For Princess Jaya Rao, nothing is more important than family. When the loathsome Emerson clan steps up their centuries-old feud to target Jaya's little sister, nothing will keep Jaya from exacting her revenge. Then Jaya finds out she'll be attending the same elite boarding school as Grey Emerson, and it feels like the opportunity of a lifetime. She knows what she must do: Make Grey fall in love with her and break his heart. But much to Jaya's annoyance, Grey's brooding demeanor and lupine blue eyes have drawn her in. There's simply no way she and her sworn enemy could find their fairy-tale ending…right?

His Lordship Grey Emerson is a misanthrope. Thanks to an ancient curse by a Rao matriarch, Grey knows he's doomed once he turns eighteen. Sequestered away in the mountains at St. Rosetta's International Academy, he's lived an isolated existence—until Jaya Rao bursts into his life, but he can't shake the feeling that she's hiding something. Something that might just have to do with the rose-shaped ruby pendant around her neck…

As the stars conspire to keep them apart, Jaya and Grey grapple with questions of love, loyalty, and whether it's possible to write your own happy ending.
Of Curses and Kisses follows Jaya Rao and Grey Emerson, two seniors at St. Rosetta's Academy, an elite boarding school nestled within the mountains of Colorado. The Raos and Emersons have been feuding for centuries, but when the Emersons viciously attack Jaya's younger sister in the press, Jaya says enough is enough. Learning that Grey, the heir to the Emerson estate, is attending St. Rosetta's, she sets into motion a plan that begins with making Grey fall for her and ends with Jaya breaking his heart. But Jaya didn't plan on Grey's strange fear of her rose pendant. Nor did she plan on him being a normal person, and maybe even a nice guy. And she definitely didn't plan on the all-too-real feelings growing between the two…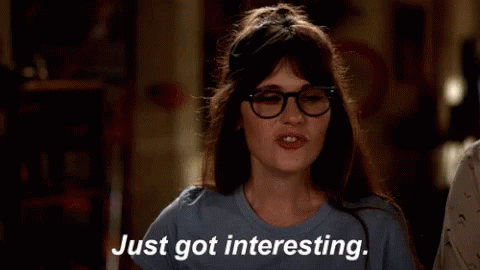 My first words after finishing this book, quoted verbatim, are "OMG, WHAT IS THIS CINNAMON BUN OF A BOOK." That's how sweet and wonderful reading Of Curses and Kisses was. I felt so self-indulgent and could not keep the smile off my face while reading this "Beauty and the Beast" retelling.
I went into this book expecting a typical YA romance, and while it did deliver in that aspect, I wasn't expecting the inspiring messages underlying the entire story. The themes of breaking out of the mold that other people have set for you and how it's possible to write your own fate are perfectly illustrated through Jaya and Grey's interactions.
For the cursed and the brave who refuse to bow to the stars.

Dedication, Of Curses and Kisses
SPEAKING OF WHICH. Jaya's bubbly personality and her faithfulness to tradition + Grey's burnt marshmallow self = 😍. Their relationship gets off to a rough start, but the combination of the fake dating and enemies-to-lovers tropes is absolutely swoonworthy. Jaya and Grey's individual character arcs were well-written as well. Jaya's relationships with her friends and sister go through a lot of development, and it was so wholesome to read. And Grey — my poor burnt marshmallow Grey just deserves better. My heart broke for him and how he perceives himself as inherently poisonous, thanks to his disgusting excuse for a father. Jaya and Grey genuinely make each other better versions of themselves, and I'm so glad that both of them got the happy ending they earned.
I found that the way the small details from the original fairytale were incorporated into the modern setting exceedingly clever. There were lots of tropes and standard YA contemporary drama involved, but Jaya and Grey's cuteness was a breath of fresh air to chase all other thoughts away. Add everything up, and I arrived at the conclusion that this book would honestly make a top-notch K-drama. I'm definitely looking forward to reading more of Sandhya Menon's contemporaries.
Abby the Christian Bookworm
The Message Bible defines goodness as a conviction that a basic holiness permeates things and people (Galatians 5:22-23 MSG). There were definitely some side characters in Of Curses and Kisses that are lacking in this conviction. If you believe that a basic holiness permeates things and people, treating them with respect and selfless love comes naturally. A world in which everyone is filled with such goodness would be a paradise.
That's it for today! How about you? Have you read Of Curses and Kisses? What Sandhya Menon book should I try next? Chat with me in the comments!