Hello everyone and merry belated Christmas! ❤️ Yes, Abby—your local blogger prone to disappearing for months on end without explanation—has finally returned from four months of extinction! Is anybody even surprised at this point that I went on yet another unannounced mega-hiatus 😅 I promise the disappearances aren't intentional! I, for my own part, never meant for this particular break to extend for so long, but school really threw a wrench into all my plans (as it always does haha), especially with the return to in-person learning. But I've missed blogging so much, and I'm really hoping that I'll be able to post at least semi-consistently from now on—no promises though 😭 I'm also slowly trying to catch up with all my WordPress notifications. I promise I've seen all your lovely posts and pingbacks and I promise I'll respond to them someday 🙏
But you read the title! I've been keeping busy during my hiatus adding future releases to my TBR, perhaps to an unhealthy extent—I do not exaggerate when I say that I have 50+ books in my 2022 releases category. I've tried to narrow them down to the ones I'm most excited for, and I'm here today to share them with you all! After all, 2022 is less than a week (?!?!?) away 🤯 Most of these are standalones, which I find myself gravitating toward more and more often these days, but for series installments, I've included the blurb for the first book to avoid any spoilers.
Without further ado, here are the 2022 releases that I'm most excited for! 🤩
I think we all know by now how obsessed I am with June Hur's books. (Ignoring the fact that I still haven't read her 2021 release 😶‍🌫️) But I'm especially excited for The Red Palace because it sounds like it's going to delve into Joseon-era court politics, which everyone knows is the most dramatic kind of court politics. And we're also getting a romantic subplot? What's not to love?
To enter the palace means to walk a path stained in blood…

Joseon (Korea), 1758. There are few options available to illegitimate daughters in the capital city, but through hard work and study, eighteen-year-old Hyeon has earned a position as a palace nurse. All she wants is to keep her head down, do a good job, and perhaps finally win her estranged father's approval.

But Hyeon is suddenly thrust into the dark and dangerous world of court politics when someone murders four women in a single night, and the prime suspect is Hyeon's closest friend and mentor. Determined to prove her beloved teacher's innocence, Hyeon launches her own secret investigation.

In her hunt for the truth, she encounters Eojin, a young police inspector also searching for the killer. When evidence begins to point to the Crown Prince himself as the murderer, Hyeon and Eojin must work together to search the darkest corners of the palace to uncover the deadly secrets behind the bloodshed.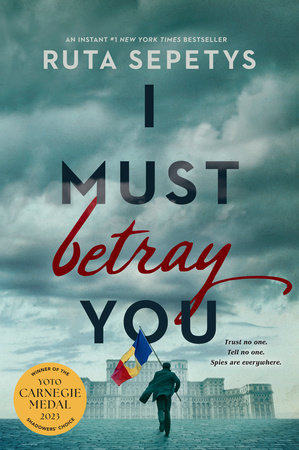 Sepetys's historical fiction books are absolutely legendary, and her newest release sounds like it'll be no different. I really love how she spotlights non-mainstream historical events, in this case Nicolae Ceaușescu's dictatorship in late 20th-century Romania, which is a period I personally have never learned about. I have no doubt that this is going to be another educational and devastating historical thriller.
Romania, 1989. Communist regimes are crumbling across Europe. Seventeen-year-old Cristian Florescu dreams of becoming a writer, but Romanians aren't free to dream; they are bound by rules and force.

Amidst the tyrannical dictatorship of Nicolae Ceaușescu in a country governed by isolation and fear, Cristian is blackmailed by the secret police to become an informer. He's left with only two choices: betray everyone and everything he loves—or use his position to creatively undermine the most notoriously evil dictator in Eastern Europe.

Cristian risks everything to unmask the truth behind the regime, give voice to fellow Romanians, and expose to the world what is happening in his country. He eagerly joins the revolution to fight for change when the time arrives. But what is the cost of freedom?
The first thing I did as soon as I stumbled out of my month-long hangover over We Are Not Free was to add to my TBR every book Chee has ever written and every book she's set to release in the near future, which is how I discovered A Thousand Steps Into Night. But even without my love for Chee's writing, the blurb would have caught my eye anyway. Japanese-inspired fantasy? A thieving magpie spirit and demon prince?? Finding unlikely power and freedom under a curse??? Color me intrigued.
From New York Times bestselling author and National Book Award finalist, Traci Chee, comes a Japanese-influenced fantasy brimming with demons, adventure, and plans gone awry.

In the realm of Awara, where gods, monsters, and humans exist side by side, Miuko is an ordinary girl resigned to a safe, if uneventful, existence as an innkeeper's daughter. But when Miuko is cursed and begins to transform into a demon with a deadly touch, she embarks on a quest to reverse the curse and return to her normal life. Aided by a thieving magpie spirit and continuously thwarted by a demon prince, Miuko must outfox tricksters, escape demon hunters, and negotiate with feral gods if she wants to make it home again. But with her transformation comes power and freedom she never even dreamed of, and she'll have to decide if saving her soul is worth trying to cram herself back into an ordinary life that no longer fits her… and perhaps never did.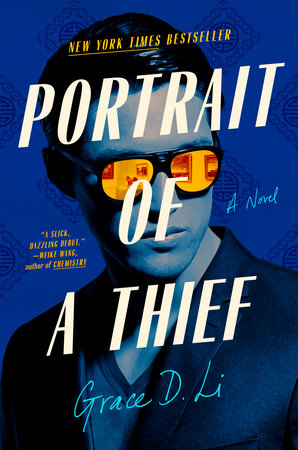 Everything about this blurb is already screaming amazing 😫 I mean, a perfect eldest son finding himself the leader of a very sketchy and very illegal art heist? Taking back what colonialism has stolen? A nuanced examination of Chinese-American identity? Asian academic overachievers using their STEM + art skills to steal back priceless Chinese sculptures? The dream, honestly.
History is told by the conquerors. Across the Western world, museums display the spoils of war, of conquest, of colonialism: priceless pieces of art looted from other countries, kept even now.

Will Chen plans to steal them back.

A senior at Harvard, Will fits comfortably in his carefully curated roles: a perfect student, an art history major and sometimes artist, the eldest son that has always been his parents' American Dream. But when a shadowy Chinese corporation reaches out with an impossible—and illegal—job offer, Will finds himself something else as well: the leader of a heist to steal back five priceless Chinese sculptures, looted from Beijing centuries ago.

His crew is every heist archetype one can imagine—or at least, the closest he can get. A conman: Irene Chen, Will's sister and a public policy major at Duke, who can talk her way out of anything. A thief: Daniel Liang, a premed student with steady hands just as capable of lockpicking as suturing. A getaway driver: Lily Wu, an engineering student who races cars in her free time. A hacker: Alex Huang, an MIT dropout turned Silicon Valley software engineer. Each member of his crew has their own complicated relationship with China and the identity they've cultivated as Chinese Americans, but when Will asks, none of them can turn him down.

Because if they succeed? They earn fifty million dollars—and a chance to make history. But if they fail, it will mean not just the loss of everything they've dreamed for themselves but yet another thwarted attempt to take back what colonialism has stolen.
I honestly have no idea how this book ended up on my TBR, since I have yet to read any of the comp titles 😅 I guess I took one look at the blurb, read "vexingly handsome doorman" and "ruthless maître d'hôtel," and was immediately intrigued enough to add it to the list. Nevertheless, it's now one of my most anticipated releases of the year—I love hotels in general, but magical hotels are truly the cherry on top.
For fans of Caraval and The Night Circus, this decadent and darkly enchanting YA fantasy, set against the backdrop of a Belle Époque-inspired hotel, follows seventeen-year-old Jani as she uncovers the deeply disturbing secrets of the legendary Hotel Magnifique.

All her life, Jani has dreamed of Elsewhere. Just barely scraping by with her job at a tannery, she's resigned to a dreary life in the port town of Durc, caring for her younger sister Zosa. That is, until the Hotel Magnifique comes to town.

The hotel is legendary not only for its whimsical enchantments, but also for its ability to travel—appearing in a different destination every morning. While Jani and Zosa can't afford the exorbitant costs of a guest's stay, they can interview to join the staff, and are soon whisked away on the greatest adventure of their lives. But once inside, Jani quickly discovers their contracts are unbreakable and that beneath the marvelous glamour, the hotel is hiding dangerous secrets.

With the vexingly handsome doorman Bel as her only ally, Jani embarks on a mission to unravel the mystery of the magic at the heart of the hotel and free Zosa—and the other staff—from the cruelty of the ruthless maître d'hôtel. To succeed, she'll have to risk everything she loves, but failure would mean a fate far worse than never returning home.
Book Lovers by Emily Henry (May 3)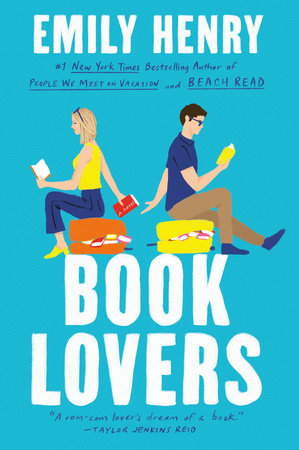 I've read two books by Emily Henry: Beach Read, which I thought was fine, and People We Meet on Vacation, which I thought was an absolute marvel that all aspiring authors should use as a guide on how to write friends-to-lovers. I have high hopes that my experience with Book Lovers will be more like the latter, especially with that title and blurb. I've honestly never felt more represented by a premise for a contemporary romance.
One summer. Two rivals. A plot twist they didn't see coming…

Nora Stephens' life is books—she's read them all—and she is not that type of heroine. Not the plucky one, not the laidback dream girl, and especially not the sweetheart. In fact, the only people Nora is a heroine for are her clients, for whom she lands enormous deals as a cutthroat literary agent, and her beloved little sister Libby.

Which is why she agrees to go to Sunshine Falls, North Carolina for the month of August when Libby begs her for a sisters' trip away—with visions of a small town transformation for Nora, who she's convinced needs to become the heroine in her own story. But instead of picnics in meadows, or run-ins with a handsome country doctor or bulging-forearmed bartender, Nora keeps bumping into Charlie Lastra, a bookish brooding editor from back in the city. It would be a meet-cute if not for the fact that they've met many times and it's never been cute.

If Nora knows she's not an ideal heroine, Charlie knows he's nobody's hero, but as they are thrown together again and again—in a series of coincidences no editor worth their salt would allow—what they discover might just unravel the carefully crafted stories they've written about themselves.
I cannot express in words how excited I am for this rags-to-riches story about a Korean-American girl discovering her long-lost chaebol family. My K-drama-loving heart is fit to burst. Also, how cute is that cover?!? I adore it 😍 And I love how "the Noh family" is written in Korean in the top right!!
When her friends gift her a 23-and-Me test as a gag, high school senior Chloe Kang doesn't think much of trying it out. She doesn't believe anything will come of it–she's an only child, her mother is an orphan, and her father died in Seoul before she was even born, and before her mother moved to Oklahoma. It's been just Chloe and her mom her whole life. But the DNA test reveals something Chloe never expected–she's got a whole extended family from her father's side half a world away in Korea. Her father's family are owners of a famous high-end department store, and are among the richest families in Seoul. When they learn she exists, they are excited to meet her. Her mother has huge reservations, she hasn't had a great relationship with her husband's family, which is why she's kept them secret, but she can't stop Chloe from travelling to Seoul to spend two weeks getting to know the Noh family.

Chloe is whisked into the lap of luxury, but something feels wrong. Chloe wants to shake it off–she's busy enjoying the delights of Seoul with new friend Miso Dan, the daughter of one of her mother's grade school friends. And as an aspiring fashion designer, she's loving the couture clothes her department store owning family gives her access to. But soon Chloe will discover the reason why her mother never told her about her dad's family, and why the Nohs wanted her in Seoul in the first place. Could joining the Noh family be worse than having no family at all?
Um, how am I supposed to wait five months for this book after learning that: (a) it's an #ownvoices Arab adult fantasy, (b) it's inspired by The Arabian Nights, (c) it contains stories within stories, and (c) it features a smuggler, a cowardly prince, and most importantly, a jinn bodyguard?!?
Why is time like this 😭
Inspired by stories from One Thousand and One Nights, The Stardust Thief weaves the gripping tale of a legendary smuggler, a cowardly prince, and a dangerous quest across the desert to find a legendary, magical lamp.

Neither here nor there, but long ago…

Loulie al-Nazari is the Midnight Merchant: a criminal who, with the help of her jinn bodyguard, hunts and sells illegal magic. When she saves the life of a cowardly prince, she draws the attention of his powerful father, the sultan, who blackmails her into finding an ancient lamp that has the power to revive the barren land—at the cost of sacrificing all jinn.

With no choice but to obey or be executed, Loulie journeys with the sultan's oldest son to find the artifact. Aided by her bodyguard, who has secrets of his own, they must survive ghoul attacks, outwit a vengeful jinn queen, and confront a malicious killer from Loulie's past. And, in a world where story is reality and illusion is truth, Loulie will discover that everything—her enemy, her magic, even her own past—is not what it seems, and she must decide who she will become in this new reality.
I heard romance between two disabled string players with #ownvoices disability rep and came running 🏃‍♂️ We love reading about commentary on the pitfalls of viral fame! And we also love super-cute covers depicting physically disabled characters! What we do not love is having to wait half a year for a book that sounds this amazing to come out.
Daisy and Noah have the same plan: use the holiday concert to land a Julliard audition. But when they're chosen to play a duet for the concert, they worry that their differences will sink their chances.

Noah, a cello prodigy from a long line of musicians, wants to stick to tradition. Daisy, a fiercely independent disabled violinist, is used to fighting for what she wants and likes to take risks. But the two surprise each other when they play. They fall perfectly in tune.

After their performance goes viral, the rest of the country falls for them just as surely as they're falling for each other. But viral fame isn't all it's cracked up to be. No one seems to care about their talent or their music at all. People have rewritten their love story into one where Daisy is an inspiration for overcoming her cerebral palsy and Noah is a saint for seeing past it.

Daisy is tired of her disability being the only thing people see about her, and all of the attention sends Noah's anxiety disorder into high speed. They can see their dream coming closer than it's ever been before. But is the cost suddenly too high?
I absolutely adored Tokyo Ever After, the first installment of this duology (?). It was the definition of a serotonin injection and the bodyguard romance gave me heart palpitations. Radish, anyone? 🥰 I'm so excited to see how Izumi grows in this sequel—I have no doubt it's going to be another ridiculously cute contemporary with unexpected depth.
Izumi Tanaka has never really felt like she fit in—it isn't easy being Japanese American in her small, mostly white, northern California town. Raised by a single mother, it's always been Izumi—or Izzy, because "It's easier this way"—and her mom against the world. But then Izzy discovers a clue to her previously unknown father's identity… and he's none other than the Crown Prince of Japan. Which means outspoken, irreverent Izzy is literally a princess.

In a whirlwind, Izzy travels to Japan to meet the father she never knew and discover the country she always dreamed of. But being a princess isn't all ball gowns and tiaras. There are conniving cousins, a hungry press, a scowling but handsome bodyguard who just might be her soulmate, and thousands of years of tradition and customs to learn practically overnight.

Izzy soon finds herself caught between worlds, and between versions of herself—back home, she was never "American" enough, and in Japan, she must prove she's "Japanese" enough. Will Izumi crumble under the weight of the crown, or will she live out her fairytale, happily ever after?
First of all, the cover. The cover, ladies and gentlemen.
Secondly, I feel like this is going to break my heart in the best way possible. I'm so happy that more stories about anti-Asian racism are being written and I can't wait to see what Tian does with this premise. Combine that with the scientifically proven fact that books about siblings are 200% more likely to be five-star reads, and you've got a potential masterpiece on your hands.
Two sisters. A shocking racist incident. The summer that will change both of their lives forever.

Despite having had near-identical upbringings, sisters Annalie and Margaret agree on only one thing: that they have nothing in common. Nineteen-year-old Margaret is driven, ambitious, and keenly aware of social justice issues. She couldn't wait to leave their oppressive small-town home and take flight in New York. Meanwhile sweet, popular, seventeen-year-old Annalie couldn't think of anything worse—she loves their town, and feels safe coasting along in its confines.

That is, until she arrives home one day to find a gut-punching racial slur painted on their garage door.

Outraged, Margaret flies home, expecting to find her family up in arms. Instead, she's amazed to hear they want to forget about it. Their mom is worried about what it might stir up, and Annalie just wants to have a "normal" summer—which Margaret is determined to ruin, apparently.

Back under each other's skins, things between Margaret and Annalie get steadily worse—and not even the distraction of first love (for Annalie), or lost love (for Margaret) can bring them together.

Until finally, a crushing secret threatens to tear them apart forever.
Speaking of anti-Asian racism! I can't believe we're actually getting a YA contemporary about Asian academic stereotypes, which are such a formative part of Asian-American identity. People are quick to denounce the academic pressure that's seen in many Asian households, so I'm really excited to see if and how this story takes a more nuanced look at the cultural and emotional aspects.
After her popular older brother's death by suicide, racist accusations are hurled against 16-year-old May, her Chinese American parents, and other Asian families for putting too much "pressure" on their kids. May attempts to challenge the racism and ugly stereotypes through her writing, only to realize that she still has much to learn and that the consequences of speaking truth to power run much deeper than she could have foreseen.
The legendary Robin Benway has returned! Far from the Tree is one of my all-time favorite books, and I can't believe that 2022's the year I'll finally be able to read something new from her 😭 Also, the cover is gorgeous. Also also, the blurb sounds absolutely devastating.
National Book Award–winning author Robin Benway returns with an ambitious I'll Give You the Sun meets Every Day story of love, loss, and sisterhood told in a reverse chronological narrative that will claim a permanent home in your heart.

It's been a year—a year of missing Nina. A year of milestones—holidays, birthdays, everything without her.

Leo feels like she should remember what happened that night. But all she knows is that she left the party and got into a car with Nina and Nina's boyfriend, East.

East, who once promised Nina he'd watch out for her younger sister. East, who has been trying to keep that promise every day since. But East won't give Leo the one thing she wants—the one thing she needs. He won't tell her anything about the accident. He won't talk about that night at all.

As the days tumble one into the next, Leo's story comes together while her world falls apart. The only constant is the one person who can help her bear the enormous weight of her love for Nina—and East might be carrying too heavy a load of his own.
Truth be told, I tried reading Wuthering Heights way back when… and gave up around the 50% mark after discovering through Sparknotes that the main romance devolves into a post-mortem obsession characterized by abuse and sociopathy—a decision I stand by to this day.
But! That doesn't mean I can't enjoy a retelling of the book, especially if it focuses on Heathcliff's oft-neglected racial identity. I'm honestly really excited to see what Suri does with the story and how it translates for a YA audience.
As the abandoned son of a Lascar—a sailor from India—Heathcliff has spent most of his young life maligned as an "outsider." Now he's been flung into an alien life in the Yorkshire moors, where he clings to his birth father's language even though it makes the children of the house call him an animal, and the maids claim he speaks gibberish.

Catherine is the younger child of the estate's owner, a daughter with light skin and brown curls and a mother that nobody talks about. Her father is grooming her for a place in proper society, and that's all that matters. Catherine knows she must mold herself into someone pretty and good and marriageable, even though it might destroy her spirit.

As they occasionally flee into the moors to escape judgment and share the half-remembered language of their unknown kin, Catherine and Heathcliff come to find solace in each other. Deep down in their souls, they can feel they are the same.

But when Catherine's father dies and the household's treatment of Heathcliff only grows more cruel, their relationship becomes strained and threatens to unravel. For how can they ever be together, when loving each other—and indeed, loving themselves—is as good as throwing themselves into poverty and death?
Have I read The Poppy War yet, despite having heard that it's absolutely amazing and not a little emotionally devastating? Nope!
Am I still ridiculously excited for the author's next historical fantasy epic? Yep!
I absolutely adore the focus on translation as a tool of colonization—it's an angle I've never thought about, and based on what I've heard about R. F. Kuang's work, I'm certain that the author will give me lots to think about. As I said: Ridiculously excited.
Traduttore, traditore: An act of translation is always an act of betrayal.

1828. Robin Swift, orphaned by cholera in Canton, is brought to London by the mysterious Professor Lovell. There, he trains for years in Latin, Ancient Greek, and Chinese, all in preparation for the day he'll enroll in Oxford University's prestigious Royal Institute of Translation—also known as Babel.

Babel is the world's center of translation and, more importantly, of silver-working: the art of manifesting the meaning lost in translation through enchanted silver bars, to magical effect. Silver-working has made the British Empire unparalleled in power, and Babel's research in foreign languages serves the Empire's quest to colonize everything it encounters.

Oxford, the city of dreaming spires, is a fairytale for Robin; a utopia dedicated to the pursuit of knowledge. But knowledge serves power, and for Robin, a Chinese boy raised in Britain, serving Babel inevitably means betraying his motherland. As his studies progress Robin finds himself caught between Babel and the shadowy Hermes Society, an organization dedicated to sabotaging the silver-working that supports imperial expansion. When Britain pursues an unjust war with China over silver and opium, Robin must decide: Can powerful institutions be changed from within, or does revolution always require violence? What is he willing to sacrifice to bring Babel down?

Babel—a thematic response to The Secret History and a tonal response to Jonathan Strange & Mr. Norrell—grapples with student revolutions, colonial resistance, and the use of translation as a tool of empire.
Seoulmates by Susan Lee (September 20)
Me adding more fluffy K-drama-inspired contemporaries to my TBR? More likely than you'd think 👍 Honestly, what gets fluffier than having an actual K-drama actor as the male lead in your friends-to-lovers rom-com?
The answer is nothing. Nothing gets fluffier than this.
The last person Hannah wants to see is her former best friend, Jacob. Until blackmail and a bucket list, along with two meddling mamas, push them together for a summer worthy of a K-drama…

Hannah Cho had the next year all planned out—the perfect summer with her boyfriend, Nate, and then a fun senior year with all of their friends.

But then Nate does what everyone else in Hannah's life seems to do—he leaves her, claiming they have nothing in common. He and all her friends are newly obsessed with K-pop and K-dramas, and Hannah is not. After years of trying to embrace the American part and shunning the Korean side of her Korean American identity to fit in, Hannah finds that's exactly what now has her on the outs.

But someone who does know K-dramas—so well that he's actually starring in one—is Jacob Kim, Hannah's former best friend, whom she hasn't seen in years. He's desperate for a break from the fame and someone to trust, so a family trip back to San Diego might be just what he needs…that is, if he and Hannah can figure out what went wrong when they last parted and navigate the new feelings developing between them.
You had me at alternate medieval India and tackled me with young guardwoman struggling with her role as a major pawn in political intrigue. This is literally all I've ever wanted in life. Someone wake me up when it's October 2022.
To learn what she can become, she must first discover who she is.

A stunning and immersive debut set in an alternate medieval India infested with monsters, where a young guardswoman struggles with her unwitting role as a major pawn in the deadly games between two kingdoms. With incredible characters, a vivid setting and heartrending emotion, Night of the Raven, Dawn of the Dove will enthrall you until the very last page.
So who was going to tell me that Robin Roe was coming out with a new book, hm? Her debut A List of Cages shattered my heart into a million pieces, and I thought that would be the last I'd ever read from her… but now she's coming out with a new book??!! A book that sounds very much like a psychological thriller, no less?!?! I need a copy of this, STAT.
Sixteen-year-old Sayers Wayte has everything—until he's kidnapped by a man who takes it all away. A man who tells him that the privileged life he's been living is based on a lie.

To survive, Sayers must forget the world he once knew, and play the part his abductor has created for him. But as time goes by, the line between fact and fiction blurs, and Sayers begins to wonder if he can escape without losing himself entirely.
DID I HEAR RIGHT? DID I HEAR DISCUSSION OF ASIAN TOXIC MASCULINITY?! I better have heard right because the world needs that discussion very desperately. Also, please tell me the title means that we finally get to see a relationship between a girl and a guy that stays platonic? (please) This book sounds amazing on so many different levels 😭
Trisha de Guzman at FSG has bought, in an exclusive submission, [Gloria Buenrostro Is Not My Girlfriend], by former animation executive Brandon Hoàng. The debut contemporary YA follows a Vietnamese American boy who, in order to gain acceptance from his male peers, befriends the most beautiful girl in school, Gloria Buenrostro. When Gloria finds out about his deception, he is forced to confront how he's allowed his friends' toxic masculinity to sabotage his relationship with the best friend he's ever had. Publication is set for fall 2022; Alyssa Jennette at Stonesong Literary did the deal for world rights.
Academic rivals to lovers 😩 At an elite Beijing boarding school 😩 Monetizing their newfound magical powers 😩 By selling their rich classmates' secrets 😩
It's not a want, it's a need 😩
This debut YA novel follows a Chinese American teenage girl, who, upon discovering that she can no longer afford tuition at her elite Beijing boarding school, teams up with her academic rival and monetizes her strange new invisibility powers by discovering and selling her wealthy classmates' most scandalous secrets.
A cyberpunk Six of Crows set in an alternate history Beijing? Say no more. That is a pitch that I didn't even know I needed in my life until now. And it doesn't hurt that I've heard nothing but amazing things about Andrea Tang's Rebelwing, which apparently features sentient cybernetic dragons? Someone remind me to add that one to my TBR as well.
Alyza Liu at Simon & Schuster has bought, in an exclusive submission, The Kingdom of Without by Andrea Tang (Rebelwing; Renegade Flight). Pitched as a cyberpunk Six of Crows and set in an alternate history class-divided Beijing, a desperate young thief agrees to help a band of revolutionaries, including a mysterious renegade known only as the Red Yaksha, break out the leader of a failed rebellion. Publication is planned for fall 2022; Thao Le at the Dijkstra Agency brokered the deal for world rights.
The main character solving the mystery of her brother's suicide by means of her Afro-Caribbean heritage? Sounds like a very emotionally traumatic reading experience—which obviously means I have to read it as soon as I can get my hands on a copy. Don't you just love how messed up your logical thinking process becomes when you're obsessed with books? 😂
North American rights Governor General's Award finalist Janice Lynn Mather's Where Was Goodbye?, her next #OwnVoices YA novel, about a teenage girl searching for answers as the police investigation into her brother's suicide comes to a close, only to discover that her Afro-Caribbean heritage may hold the key to uncovering the mystery behind her brother's death, and to providing the closure her family needs, to Catherine Laudone at Simon & Schuster Children's, for publication in fall 2022, by Rachel Letofsky.
On that note, you've finally reached the end of this post! You guys have no idea how hard it was to narrow my list of 2022 releases down to these 22 books. (2022 and 22? That was an unintended parallel that I actually just realized I made 😅)
Please talk to me in the comments! I've missed talking to you all. How have you been? How was your Christmas? Any amazing books you've read recently? What are your most anticipated releases for next year?
Thank you so much for reading, and I hope this last week of 2021 is amazing for you! ❤️