hello everyone and welcome back! i hope you've all been doing well 🤗 i'm just over a week into my fall semester and i think i'm slowly getting into the hang of things—and by that, i mean i'm slowly resigning myself to the mental and physical stress of returning to school life 🥲
but anyway! today, i'm back with a very special post in honor of hispanic heritage month! we celebrate hispanic heritage month every year in the united states from september 15 to october 15 to uplift the "histories, cultures and contributions of american citizens whose ancestors came from spain, mexico, the caribbean and central and south america." the monthlong period encompasses the independence days for many latin american countries (including costa rica, el salvador, guatemala, honduras, nicaragua, mexico, and chile). you can read more about national hispanic heritage month at the official website!
so today, i thought i'd share some book recommendations by latine** authors! personally, i find that my year-end stats are always lacking in books with latine rep, which is something i'm trying to work on—in that aspect, this list is for me as much as it's for you guys, especially since most of these books have been on my tbr for way too long 🙈 i've tried to include books from as many genres and age ranges as possible, but please feel free to drop any other recommendations you might have!
but without further ado, let's get started!
**for this post, i've decided to stick to using the term "latine" because i feel like it most accurately describes the representation in the books featured in this post. if you'd like to read more about the different possible terms of usage, here's a great pdf i found on the topic!
🗂 genre: ya contemporary romance
💌 rep: mexican american main characters, discussions of immigration status and mental health
Penelope Prado has always dreamed of opening her own pastelería next to her father's restaurant, Nacho's Tacos. But her mom and dad have different plans—leaving Pen to choose between disappointing her traditional Mexican American parents or following her own path. When she confesses a secret she's been keeping, her world is sent into a tailspin. But then she meets a cute new hire at Nacho's who sees through her hard exterior and asks the questions she's been too afraid to ask herself.

Xander Amaro has been searching for home since he was a little boy. For him, a job at Nacho's is an opportunity for just that—a chance at a normal life, to settle in at his abuelo's, and to find the father who left him behind. But when both the restaurant and Xander's immigrant status are threatened, he will do whatever it takes to protect his newfound family and himself.

Together, Pen and Xander must navigate first love and discovering where they belong in order to save the place they all call home.
🗂 genre: ya contemporary romance
💌 rep: peruvian american main character with hip dysplasia
Verónica has had many surgeries to manage her disability. The best form of rehabilitation is swimming, so she spends hours in the pool, but not just to strengthen her body.

Her Florida town is home to Mermaid Cove, a kitschy underwater attraction where professional mermaids perform in giant tanks . . . and Verónica wants to audition. But her conservative Peruvian parents would never go for it. And they definitely would never let her be with Alex, her cute new neighbor.

She decides it's time to seize control of her life, but her plans come crashing down when she learns her parents have been hiding the truth from her—the truth about her own body.
🗂 genre: ya contemporary
💌 rep: afro-puerto rican main character as teenage parent, puerto rican side characters
With her daughter to care for and her abuela to help support, high school senior Emoni Santiago has to make the tough decisions, and do what must be done. The one place she can let her responsibilities go is in the kitchen, where she adds a little something magical to everything she cooks, turning her food into straight-up goodness.

Still, she knows she doesn't have enough time for her school's new culinary arts class, doesn't have the money for the class's trip to Spain—and shouldn't still be dreaming of someday working in a real kitchen. But even with all the rules she has for her life—and all the rules everyone expects her to play by—once Emoni starts cooking, her only real choice is to let her talent break free.
🗂 genre: ya contemporary, magical realism
💌 rep: afro-dominican main character, puerto rican main character
Eury comes to the Bronx as a girl haunted. Haunted by losing everything in Hurricane Maria–and by an evil spirit, Ato. She fully expects the tragedy that befell her and her family in Puerto Rico to catch up with her in New York. Yet, for a time, she can almost set this fear aside, because there's this boy . . .

Pheus is a golden-voiced, bachata-singing charmer, ready to spend the summer on the beach with his friends, serenading his on-again, off-again flame. That changes when he meets Eury. All he wants is to put a smile on her face and fight off her demons. But some dangers are too powerful for even the strongest love, and as the world threatens to tear them apart, Eury and Pheus must fight for each other and their lives.
🗂 genre: ya contemporary romance
💌 rep: cuban and puerto rican main character, latine side characters
Carmen Aguilar just wants to make her happily ever after come true. Except apparently "happily ever after" for Carmen involves being stuck in an unpaid summer internship! All she has to do is perform! In a ball gown! During the summer. In Miami.

Fine. Except that Carmen's company is hired for her spoiled cousin Ariana's over the top quinceañera.

And of course, her new dance partner at work is none other than Mauro Reyes, Carmen's most deeply regrettable ex.

If Carmen is going to move into the future she wants, she needs to leave the past behind. And if she can manage dancing in the blistering heat, fending off Mauro's texts, and stopping Ariana from ruining her own quinceañera Carmen might just get that happily ever after after all.
🗂 genre: ya historical fiction
💌 rep: cuban main characters
The people of Cuba are living in el periodo especial en tiempos de paz—the special period in times of peace. That's what the government insists that this era must be called, but the reality behind these words is starvation.

Liana is struggling to find enough to eat. Yet hunger has also made her brave: she finds the courage to skip a summer of so-called volunteer farm labor, even though she risks government retribution. Nearby, a quiet, handsome boy named Amado also refuses to comply, so he wanders alone, trying to discover rare sources of food.

A chance encounter with an enigmatic dog brings Liana and Amado together. United in hope and hunger, they soon discover that their feelings for each other run deep. Love can feed their souls and hearts—but is it enough to withstand el periodo especial?
🗂 genre: middle grade historical fiction
💌 rep: chilean main characters
Celeste Marconi is a dreamer. She lives peacefully among friends and neighbors and family in the idyllic town of Valparaiso, Chile—until one day when warships are spotted in the harbor and schoolmates start disappearing from class without a word. Celeste doesn't quite know what is happening, but one thing is clear: no one is safe, not anymore.

The country has been taken over by a government that declares artists, protestors, and anyone who helps the needy to be considered "subversive" and dangerous to Chile's future. So Celeste's parents—her educated, generous, kind parents—must go into hiding before they, too, "disappear." Before they do, however, they send Celeste to America to protect her.

As Celeste adapts to her new life in Maine, she never stops dreaming of Chile. But even after democracy is restored to her home country, questions remain: Will her parents reemerge from hiding? Will she ever be truly safe again?

Accented with interior artwork, steeped in the history of Pinochet's catastrophic takeover of Chile, and based on many true events, this multicultural ode to the power of revolution, words, and love is both indelibly brave and heartwrenchingly graceful.
echo by pam muñoz ryan
🗂 genre: middle grade historical fiction, magical realism
💌 rep: mexican american main character
Lost and alone in a forbidden forest, Otto meets three mysterious sisters and suddenly finds himself entwined in a puzzling quest involving a prophecy, a promise, and a harmonica.

Decades later, Friedrich in Germany, Mike in Pennsylvania, and Ivy in California each, in turn, become interwoven when the very same harmonica lands in their lives. All the children face daunting challenges: rescuing a father, protecting a brother, holding a family together. And ultimately, pulled by the invisible thread of destiny, their suspenseful solo stories converge in an orchestral crescendo.

Richly imagined and masterfully crafted, Echo pushes the boundaries of genre, form, and storytelling innovation to create a wholly original novel that will resound in your heart long after the last note has been struck.
love in the time of cholera by gabriel garcía márquez (translated by edith grossman)
🗂 genre: literary fiction, romance
💌 rep: colombian main characters
In their youth, Florentino Ariza and Fermina Daza fall passionately in love. When Fermina eventually chooses to marry a wealthy, well-born doctor, Florentino is heartbroken, but he is a romantic. As he rises in his business career he whiles away the years in 622 affairs—yet he reserves his heart for Fermina. Her husband dies at last, and Florentino purposefully attends the funeral. Fifty years, nine months, and four days after he first declared his love for Fermina, he will do so again.
🗂 genre: historical fiction
💌 rep: dominican main characters
Set during the waning days of the Trujillo dictatorship in the Dominican Republic in 1960, this extraordinary novel tells the story the Mirabal sisters, three young wives and mothers who are assassinated after visiting their jailed husbands.

From the author of How the Garcia Girls Lost Their Accents comes this tale of courage and sisterhood set in the Dominican Republic during the rise of the Trujillo dictatorship. A skillful blend of fact and fiction, In the Time of the Butterflies is inspired by the true story of the three Mirabal sisters who, in 1960, were murdered for their part in an underground plot to overthrow the government. Alvarez breathes life into these historical figures–known as "las mariposas," or "the butterflies," in the underground–as she imagines their teenage years, their gradual involvement with the revolution, and their terror as their dissentience is uncovered.

Alvarez's controlled writing perfectly captures the mounting tension as "the butterflies" near their horrific end. The novel begins with the recollections of Dede, the fourth and surviving sister, who fears abandoning her routines and her husband to join the movement. Alvarez also offers the perspectives of the other sisters: brave and outspoken Minerva, the family's political ringleader; pious Patria, who forsakes her faith to join her sisters after witnessing the atrocities of the tyranny; and the baby sister, sensitive Maria Teresa, who, in a series of diaries, chronicles her allegiance to Minerva and the physical and spiritual anguish of prison life.
🗂 genre: literary fiction, historical fiction, magical realism
💌 rep: cuban american and cuban main characters
Marisol vanished during the Cuban Revolution, her fate unknown and lost to time. Now, haunted by atrocities long-forgotten, her foul-mouthed spirit visits her nephew, Ramon, in modern-day New Jersey. Her hope: That her presence will prompt her descendant to unearth their painful family history.

Ramon launches a haphazard investigation into the story of his ancestor, unaware of the forces driving him on his search. Along the way, he falls in love, discovers a new sense of his own identity, faces a run-in with a murderous gangster, and learns of each "lost saint" who helped Marisol during her imprisonment under Batista's reign.

Uplifting and evocative, The Book of Lost Saints is a meditation on family, forgiveness, and the violent struggle to be free.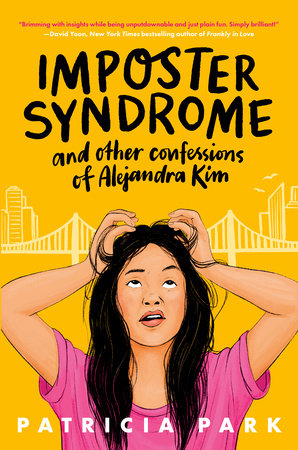 🗂 genre: ya contemporary
💌 rep: korean-latine main character
📅 releases: february 21, 2023
Alejandra Kim doesn't feel like she belongs anywhere. At her wealthy Manhattan high school, her súper Spanish name and súper Korean face do not compute to her mostly white "woke" classmates and teachers. In her Jackson Heights neighborhood, she's not Latinx enough. Even at home, Ale feels unwelcome. And things at home have only gotten worse since Papi's body was discovered on the subway tracks.

Ale wants nothing more than to escape the city for the wide-open spaces of the prestigious Wyder University. But when a microaggression at school thrusts Ale into the spotlight—and into a discussion she didn't ask for—Ale must discover what is means to carve out a space for yourself to belong.

Patricia Park's coming-of-age novel about a multicultural teen caught between worlds, and the future she is building for herself, is an incisive, laugh-out-loud, provocative read.
🗂 genre: ya science fiction, romance
💌 rep: chilean-inspired world
📅 releases: 2023
Sixteen-year-old Rumi Sabzwari has spent his entire life behind the armored walls of Upper City St. Iago. But when his father is infected with a mysterious virus, Rumi escapes St. Iago to search for a cure in the outside world, which he knows only as "Lower City."

In ruins of Paraíso, Rumi meets fifteen-year-old Paz, who agrees to guide him on his journey. As they travel together, Rumi finds himself drawn to Paz—and behind her tough exterior, she begins to feel the same way. But Paz also has a deadly secret that she must keep from Rumi at all costs: she's a spy for the very rebels who infected his father in the first place.

Weaving together the voices of two characters struggling to find their place in a starkly unequal world, Under This Forgetful Sky explores how our connections to one another can lead to violence, but also to understanding, to solidarity, to hope.
🗂 genre: ya contemporary
💌 rep: multicultural latinx characters
📅 releases: 2023
Jenny Bak at Viking has acquired, at auction, Up in Flames, a contemporary retelling of Gone with the Wind by debut author Hailey Alcaraz. Pitched in the vein of diverse retellings like Anna K, the privileged and irrepressible Ruby Ortega vies to win the heart of her best friend while fighting to save her family's home and the local Latinx community from the California wildfires, all while avoiding the help of a young, annoyingly attractive entrepreneur.
🗂 genre: ya fantasy romance
💌 rep: latine-inspired world
📅 releases: 2023
Sinner's Isle is a dual-POV Latinx YA fantasy romance, bought at auction in a two-book deal and pitched as Pirates of the Caribbean meets Serpent & Dove, in which a powerful witch being held captive on a remote island will do anything to escape it before the Offering—a week-long fiesta for the wealthy to engage with Majestics like her—including blackmailing an infamous, charming pirate who washes up on shore.
and that's it for today! obviously, i'm not part of the latine community myself, so i'm more than open to feedback if there's anything latine readers would like to discuss about hispanic heritage month or any of the books featured here!
other than that, let me know in the comments if you've read any of these books and what you thought of them! for me, i lived on butterfly hill and echo were essential parts of my childhood—both those books wrecked my emotions in the best way 😭 and of course, any and all recs are welcome 😍
until next time, happy reading everyone and stay safe!! 💖