Hello all!! How have you been? Isn't it just like me to disappear for three weeks straight after announcing the end of my hiatus—and for absolutely no reason at all 🙈 I'm happy to report, though, that these past few weeks of inactivity have been filled with amazing books that gave me varying levels of emotional trauma 👍 It's been so long since I cried my eyes out over a book, and I can't believe I got to do that not once, but several times this month! I can't wait to share all my thoughts on my recent reads in my July wrap-up 😊
But today, I'm back with a specific recommendations post in honor of Disability Pride Month!
To give us all a bit of background knowledge, Disability Pride Month has been celebrated internationally every July since 1990, when the Americans with Disabilities Act (which prohibits discrimination on the basis of disability) was signed into law. It's a month to promote awareness and "disability pride," which is defined as "accepting and honoring each person's uniqueness and seeing it as a natural and beautiful part of human diversity" (according to America's Disability Community).
The definition of a person with a disability is typically defined as someone who (1) has a physical or mental impairment that substantially limits one or more "major life activities," (2) has a record of such an impairment, or (3) is regarded as having such an impairment.

Office of Disability Employment Policy
When we talk about representation in the books we read or the media we consume, disability is often overlooked or in some cases, straight-up mocked. I am an able-bodied person, and I know that I personally can do better in seeking out books about disabled people by disabled authors and in educating myself. I know that we can all do better. ❤️
So today, I'd like to take the chance to spotlight some YA books that feature disability representation! Each book shown here features at least one major character who is disabled across a physical, mental, or neurodiverse axis. I've attempted to find books that are less widely known than the go-to recommendations for disability rep (think Six of Crows or Turtles All the Way Down). There's nothing wrong with these books—I've included several of them on this list—but supporting underhyped authors is never a bad thing, right?
I've also attempted to include as many books as possible that have been confirmed as #ownvoices (meaning that the author shares a marginalized identity with the main character), because we should absolutely prioritize the voices of disabled authors. (HOWEVER—and hopefully this goes without saying, but just in case someone gets the wrong idea—that is not an excuse for us, the readers, to go digging into an author's medical history, whether or not they have openly disclosed their diagnosis.)
One last disclaimer: Being that I have not read all (actually, most) of these books and since I am not disabled myself, I cannot 100% guarantee that the disability rep will be accurate and/or unproblematic. I've tried to exclude any books with rep that has been called out by members of the disabled community, but I may have missed a few, so please don't hesitate to let me know if there's any book on here that I should consider removing. While you're at it, please let me know if there's anything I worded wrong in this post or anything I said that was offensive. This entire thing is a learning process for me, so any feedback is appreciated! 💖
Enough with the intro, am I right? Without further ado, I present to you 35 YA books with disability rep!!
🌹 genre: YA contemporary romance
🌟 rep: love interest with Ehlers-Danlos syndrome
👑 releases: February 15, 2022
The Bachelor meets Gilmore Girls in this laugh-out-loud young adult romance about a girl who joins her mother on a reality dating show for single parents—only to fall for a contestant's son.

Cara Hawn's life fell apart after her father cheated on her mother and got remarried to a woman Cara can't stand. When Cara accidentally posts a rant about her father online, it goes viral—and catches the attention of the TV producers behind a new reality dating show for single parent families.

The next thing Cara and her mother know, they've been cast as leads on the show and are whisked away to sunny Key West where they're asked to narrow a field of suitors and their kids down to one winning pair. All of this is outside of Cara's comfort zone, from the meddling producers to the camera-hungry contestants, especially as Cara and her mother begin to clash on which suitors are worth keeping around. And then comes Connor.

As the son of a contestant, Connor is decidedly off-limits. Except that he doesn't fit in with the cutthroat atmosphere in all the same ways as Cara, and she can't get him out of her head. Now Cara must juggle her growing feelings while dodging the cameras and helping her mom pick a bachelor they both love, or else risk fracturing their family even more for the sake of ratings. Maybe there's a reason most people don't date on TV.
🌹 genre: YA contemporary
🌟 rep: general themes about depression & suicide
🔖 confirmed #ownvoices
When fifteen-year-old Nathan discovers that his older brother Al has taken his own life, his whole world is torn apart.

Al was special.
Al was talented.
Al was full of passion and light…so why did he do it?

Convinced that his brother was in trouble, Nathan begins to retrace his footsteps. And along the way, he meets Megan. Al's former classmate, who burns with the same fire and hope, who is determined to keep Al's memory alive. But when Nathan learns the horrifying truth behind his brother's suicide, one question remains – how do you survive, when you're growing up in the age of social media?
🌹 genre: YA contemporary romance
🌟 rep: MC with chronic pain
Samantha Herring has been in constant pain ever since the car accident that injured her leg and killed her mother. After pushing her friends away, Sam has receded into a fog of depression until she meets Eliot, a carefree, impulsive loner who is unable to feel any pain at all.

At first, Sam is jealous. She would give anything to not feel the pain she's felt for the past year. But the more she learns about Eliot's medical condition, the more she notices his self-destructive tendencies.

In fact, Eliot doesn't seem to care about anything—except Sam. And as they grow closer, they begin to confront Sam's painful memories of the accident, memories that hold a startling truth about what really happened that day.
🌹 genre: YA contemporary
🌟 rep: autistic MCs
🔖 confirmed #ownvoices (for autism & anxiety)
Can two broken boys find their perfect home?

Sam is only fifteen but he and his autistic older brother, Avery, have been abandoned by every relative he's ever known. Now Sam's trying to build a new life for them. He survives by breaking into empty houses when their owners are away, until one day he's caught out when a family returns home. To his amazement this large, chaotic family takes him under their wing – each teenager assuming Sam is a friend of another sibling. Sam finds himself inextricably caught up in their life, and falling for the beautiful Moxie.

But Sam has a secret, and his past is about to catch up with him.
🌹 genre: YA contemporary
🌟 rep: MC is a leg amputee; love interest is a cancer survivor
🔖 confirmed #ownvoices (for cancer & leg amputation)
🌿 love interest also has a drug addiction
Teenager Cason Martin is the youngest ballerina in the Atlanta Ballet Conservatory. She never really had a choice of whether she learned to dance or not. Her mother, the conservatory's artistic director, has made all the decisions in Cason's life. But that's about to change. Cason has been hiding an injury, and it's much worse than anyone imagines.

Davis Channing understands all too well what it's like to give up control of your life. He's survived cancer, but his drug addiction nearly killed him. Now he's been sober for seven months and enjoying his community service at the hospital. But just when he thinks he's got it together, Davis's ex-girlfriend, who is still battling her addiction, barrels back into his life.

Cason and Davis are not friends. But, as their worlds collide, they will start to depend on one another. Can they both be brave enough to beat the odds?
🌹 genre: YA contemporary
🌟 rep: MC with schizoaffective disorder
🌿 inspired by Shusterman's son's experiences with mental illness (the illustrations are by Shusterman's son!)
Caden Bosch is on a ship that's headed for the deepest point on Earth: Challenger Deep, the southern part of the Marianas Trench.

Caden Bosch is a brilliant high school student whose friends are starting to notice his odd behavior.

Caden Bosch is designated the ship's artist in residence to document the journey with images.

Caden Bosch pretends to join the school track team but spends his days walking for miles, absorbed by the thoughts in his head.

Caden Bosch is split between his allegiance to the captain and the allure of mutiny.

Caden Bosch is torn.
🌹 genre: YA fantasy
🌟 rep: MC with cerebral palsy
Fall in love, break the curse.

It once seemed so easy to Prince Rhen, the heir to Emberfall. Cursed by a powerful enchantress to repeat the autumn of his eighteenth year over and over, he knew he could be saved if a girl fell for him. But that was before he learned that at the end of each autumn, he would turn into a vicious beast hell-bent on destruction. That was before he destroyed his castle, his family, and every last shred of hope.

Nothing has ever been easy for Harper. With her father long gone, her mother dying, and her brother barely holding their family together while constantly underestimating her because of her cerebral palsy, she learned to be tough enough to survive. But when she tries to save someone else on the streets of Washington, DC, she's instead somehow sucked into Rhen's cursed world.

Break the curse, save the kingdom.

A prince? A monster? A curse? Harper doesn't know where she is or what to believe. But as she spends time with Rhen in this enchanted land, she begins to understand what's at stake. And as Rhen realizes Harper is not just another girl to charm, his hope comes flooding back. But powerful forces are standing against Emberfall . . . and it will take more than a broken curse to save Harper, Rhen, and his people from utter ruin.
🌹 genre: YA contemporary romance
🌟 rep: MCs are cancer survivors; one of them is a leg amputee
🔖 confirmed #ownvoices (for cancer & leg amputation)
Jase Ellison doesn't remember having Acute Lymphocytic Leukemia when he was three years old. His cancer diagnosis only enters his mind twice a year. Once at his yearly checkup at the oncology clinic and when he attends Camp Chemo in the summer. No one in his "real" life knows about his past, especially his friends at Atlanta West Prep.

Mari Manos has never been able to hide her cancer survivorship. She wakes every morning, grabs her pink forearm clip crutches, and starts her day. Mari loves Camp Chemo—where she's developed a healthy crush on fellow camper Jase. At Camp, she knows that she'll never get "the look" or have to explain her amputation to anyone.

Jase wants to move on, to never reveal his past. But when Mari transfers to his school, he knows she could blow his cover. That's the last thing he wants, but he also cannot ignore his attraction to her. For Mari, she only wants to be looked at like a girl, a person, and not only known for her disability. But how do you move on from cancer when the world won't let you?
🌹 genre: YA fantasy
🌟 rep: MC with Down syndrome
Agatha is a Hawk, brave and fierce, who protects her people by patrolling the high walls of their island home. She is proud of her job, though some in her clan whisper that it is meant to keep her out of the way because of the condition she was born with. Jaime, thoughtful and anxious, is an Angler, but he hates the sea. Worse, he's been chosen for a duty that the clan hasn't required for generations: to marry. The elders won't say why they have promised him to a girl in a neighboring clan, but there are rumors of approaching danger. When disaster strikes and the clan is kidnapped, it is up to Agatha and Jaime to travel across the haunted mainland of Scotia to Norveg, with help along the way from a clan of nomadic Highland bull riders and the many animals who are drawn to Agatha's extraordinary gift of communication.
🌹 genre: YA contemporary
🌟 rep: MC with ADHD; MC with dyslexia & PTSD
When Adam Blake lands the best elective ever in his senior year, serving as an aide to the school psychologist, he thinks he's got it made. Sure, it means a lot of sitting around, which isn't easy for a guy with ADHD, but he can't complain, since he gets to spend the period texting all his friends. Then the doctor asks him to track down the troubled freshman who keeps dodging her, and Adam discovers that the boy is Julian—the foster brother he hasn't seen in five years. Adam is ecstatic to be reunited. At first, Julian seems like the boy he once knew. He's still kind hearted. He still writes stories and loves picture books meant for little kids. But as they spend more time together, Adam realizes that Julian is keeping secrets, like where he hides during the middle of the day, and what's really going on inside his house. Adam is determined to help him, but his involvement could cost both boys their lives.
🌹 genre: YA contemporary
🌟 rep: MC with Tourette syndrome and OCD
🔖 confirmed #ownvoices
Ten: three little letters, one ordinary number. No big deal, right? But for Troy Hayes, a 16-year-old suffering from Tourette Syndrome and Obsessive-Compulsive Disorder, the number ten dictates his life, forcing him to do everything by its exacting rhythm. Finally, fed up with the daily humiliation, loneliness, and physical pain he endures, Troy writes a list of ten things to do by the tenth anniversary of his diagnosis—culminating in suicide on the actual day. But the process of working his way through the list changes Troy's life: he becomes friends with Khory, a smart, beautiful classmate who has her own troubled history. Khory unwittingly helps Troy cross off items on his list, moving him ever closer to his grand finale, even as she shows him that life may have more possibilities than he imagined. This is a dark, intense story, but it's also realistic, hopeful, and deeply authentic.
🌹 genre: YA contemporary
🌟 rep: MC with multiple sclerosis
A marvel: something you find amazing. Even ordinary-amazing. Like potatoes—because they make French fries happen. Like the perfect fries Adam and his mom used to make together.

An oddity: whatever gives you pause. Like the fact that there are hateful people in the world. Like Zayneb's teacher, who won't stop reminding the class how "bad" Muslims are.

But Zayneb, the only Muslim in class, isn't bad. She's angry.

When she gets suspended for confronting her teacher, and he begins investigating her activist friends, Zayneb heads to her aunt's house in Doha, Qatar, for an early start to spring break.

Fueled by the guilt of getting her friends in trouble, she resolves to try out a newer, "nicer" version of herself in a place where no one knows her.

Then her path crosses with Adam's.

Since he got diagnosed with multiple sclerosis in November, Adam's stopped going to classes, intent, instead, on perfecting the making of things. Intent on keeping the memory of his mom alive for his little sister.

Adam's also intent on keeping his diagnosis a secret from his grieving father.

Alone, Adam and Zayneb are playing roles for others, keeping their real thoughts locked away in their journals.

Until a marvel and an oddity occurs…

Marvel: Adam and Zayneb meeting.

Oddity: Adam and Zayneb meeting.
🌹 genre: upper-YA/NA contemporary
🌟 rep: MC with central auditory processing disorder
🔖 confirmed #ownvoices
Edie Kits has a learning disability. Well, not a learning disability exactly, but a disability that impacts her learning. It isn't visible, it isn't obvious, and it isn't something she likes to advertise.

And for three semesters of college, her hard work and perseverance have carried her through. Edie thinks she has her disability under control until she meets her match with a French 102 course and a professor unwilling to help her out.

Edie finds herself caught between getting the help she needs and convincing her professor that she isn't looking for an easy out. Luckily for Edie, she has an amazing best friend, Serena, who is willing to stitch together a plan to ensure Edie's success. And then there's Hudson, the badly dressed but undoubtedly adorable TA in her French class who finds himself pulled into her orbit…
🌹 genre: YA contemporary romance
🌟 rep: MC with Niemann-Pick disease, type C
They tell me that my memory will never be the same, that I'll start forgetting things. At first just a little, and then a lot. So I'm writing to remember.

Sammie was always a girl with a plan: graduate at the top of her class and get out of her small town as soon as humanly possible. Nothing will stand in her way–not even a rare genetic disorder the doctors say will slowly start to steal her memories and then her health. What she needs is a new plan.

So the Memory Book is born: Sammie's notes to her future self, a document of moments great and small. It's where she'll record every perfect detail of her first date with longtime crush, Stuart—a brilliant young writer who is home for the summer. And where she'll admit how much she's missed her childhood best friend, Cooper, and even take some of the blame for the fight that ended their friendship.

Through a mix of heartfelt journal entries, mementos, and guest posts from friends and family, readers will fall in love with Sammie, a brave and remarkable girl who learns to live and love life fully, even though it's not the life she planned.
🌹 genre: YA contemporary
🌟 rep: MC with depression & suicidal ideation
🔖 confirmed #ownvoices
🌿 no romance
When Vicky Cruz wakes up in the Lakeview Hospital Mental Disorders ward, she knows one thing: After her suicide attempt, she shouldn't be alive. But then she meets Mona, the live wire; Gabriel, the saint; E.M., always angry; and Dr. Desai, a quiet force. With stories and honesty, kindness and hard work, they push her to reconsider her life before Lakeview, and offer her an acceptance she's never had.

But Vicky's newfound peace is as fragile as the roses that grow around the hospital. And when a crisis forces the group to split up, sending Vick back to the life that drove her to suicide, she must try to find her own courage and strength. She may not have them. She doesn't know.

Inspired in part by the author's own experience with depression, The Memory of Light is the rare young adult novel that focuses not on the events leading up to a suicide attempt, but the recovery from one – about living when life doesn't seem worth it, and how we go on anyway.
🌹 genre: YA contemporary
🌟 rep: Blind MC
The Rules

Don't deceive me. Ever. Especially using my blindness. Especially in public.

Don't help me unless I ask. Otherwise you're just getting in my way or bothering me.

Don't be weird. Seriously, other than having my eyes closed all the time, I'm just like you only smarter.

Parker Grant doesn't need 20/20 vision to see right through you. That's why she created the Rules: Don't treat her any differently just because she's blind, and never take advantage. There will be no second chances. Just ask Scott Kilpatrick, the boy who broke her heart.

When Scott suddenly reappears in her life after being gone for years, Parker knows there's only one way to react – shun him so hard it hurts. She has enough on her mind already, like trying out for the track team (that's right, her eyes don't work but her legs still do), doling out tough-love advice to her painfully naive classmates, and giving herself gold stars for every day she hasn't cried since her dad's death three months ago. But avoiding her past quickly proves impossible, and the more Parker learns about what really happened – both with Scott, and her dad – the more she starts to question if things are always as they seem. Maybe, just maybe, some Rules are meant to be broken.
🌹 genre: YA fantasy
🌟 rep: MC with postural orthostatic tachycardia syndrome (POTS)
🔖 confirmed #ownvoices
👑 releases: March 8, 2022
Tania de Batz is most herself with a sword in her hand. Everyone in town thinks her near-constant dizziness makes her weak, nothing but "a sick girl"; even her mother is desperate to marry her off for security. But Tania wants to be strong, independent, a fencer like her father—a former Musketeer and her greatest champion.

Then Papa is brutally, mysteriously murdered. His dying wish? For Tania to attend finishing school. But L'Académie des Mariées, Tania realizes, is no finishing school. It's a secret training ground for a new kind of Musketeer: women who are socialites on the surface, but strap daggers under their skirts, seduce men into giving up dangerous secrets, and protect France from downfall. And they don't shy away from a swordfight.

With her newfound sisters at her side, Tania feels for the first time like she has a purpose, like she belongs. But then she meets Étienne, her first target in uncovering a potential assassination plot. He's kind, charming, and breathlessly attractive—and he might have information about what really happened to her father. Torn between duty and dizzying emotion, Tania will have to lean on her friends, listen to her own body, and decide where her loyalties lie…or risk losing everything she's ever wanted.

This debut novel is a fierce, whirlwind adventure about the depth of found family, the strength that goes beyond the body, and the determination it takes to fight for what you love.
🌹 genre: YA contemporary
🌟 rep: autistic MC
🔖 confirmed #ownvoices
A funny-serious own-voices story about what happens when you stop trying to be the person other people expect you to be and give yourself a go.

Erin is looking forward to Schoolies, at least she thinks she is. But things are not going to plan. Life is getting messy, and for Erin, who is autistic, that's a big problem. She's lost her job at Surf Zone after an incident that clearly was not her fault. Her driving test went badly even though she followed the instructions perfectly. Her boyfriend is not turning out to be the romantic type. And she's missing her brother, Rudy, who left almost a year ago.

But now that she's writing letters to him, some things are beginning to make just a tiny bit of sense.
🌹 genre: YA contemporary romance
🌟 rep: MC with selective mutism & social anxiety; Deaf love interest
She doesn't talk.
He can't hear.
They understand each other perfectly.

Steffi has been a selective mute for most of her life – she's been silent for so long that she feels completely invisible. But Rhys, the new boy at school, sees her. He's deaf, and her knowledge of basic sign language means that she's assigned to look after him. To Rhys it doesn't matter that Steffi doesn't talk and, as they find ways to communicate, Steffi finds that she does have a voice, and that she's falling in love with the one person who makes her feel brave enough to use it.

Love isn't always a lightning strike.
Sometimes it's the rumbling roll of thunder . . .
🌹 genre: YA fantasy
🌟 rep: MC with OCD
What if you aren't the Chosen One? The one who's supposed to fight the zombies, or the soul-eating ghosts, or whatever the heck this new thing is, with the blue lights and the death?

What if you're like Mikey? Who just wants to graduate and go to prom and maybe finally work up the courage to ask Henna out before someone goes and blows up the high school. Again.

Because sometimes there are problems bigger than this week's end of the world, and sometimes you just have to find the extraordinary in your ordinary life.

Even if your best friend is worshipped by mountain lions.
🌹 genre: YA contemporary romance
🌟 rep: MC with rheumatoid arthritis; love interest with Gaucher disease
🔖 confirmed #ownvoices
Isabel has one rule: no dating.
It's easier—
It's safer—
It's better—
—for the other person.
She's got issues. She's got secrets. She's got rheumatoid arthritis.
But then she meets another sick kid.
He's got a chronic illness Isabel's never heard of, something she can't even pronounce. He understands what it means to be sick. He understands her more than her healthy friends. He understands her more than her own father who's a doctor.
He's gorgeous, fun, and foul-mouthed. And totally into her.
Isabel has one rule: no dating.
It's complicated—
It's dangerous—
It's never felt better—
—to consider breaking that rule for him.
🌹 genre: YA contemporary romance
🌟 rep: Deaf MC
🌿 author is Hard of Hearing
Deaf teen Maya moves across the country and must attend a hearing school for the first time. As if that wasn't hard enough, she also has to adjust to the hearing culture, which she finds frustrating—and also surprising when some classmates, including Beau Watson, take time to learn ASL. As Maya looks past graduation and focuses on her future dreams, nothing, not even an unexpected romance, will derail her pursuits. But when people in her life—deaf and hearing alike—ask her to question parts of her deaf identity, Maya stands proudly, never giving in to the idea that her deafness is a disadvantage.
🌹 genre: YA fantasy
🌟 rep: MC who walks with a cane & has touch aversion; other MCs with dyslexia, PTSD, & addiction
🔖 confirmed #ownvoices (for cane use)
Ketterdam: a bustling hub of international trade where anything can be had for the right price—and no one knows that better than criminal prodigy Kaz Brekker. Kaz is offered a chance at a deadly heist that could make him rich beyond his wildest dreams. But he can't pull it off alone. . . .

A convict with a thirst for revenge

A sharpshooter who can't walk away from a wager

A runaway with a privileged past

A spy known as the Wraith

A Heartrender using her magic to survive the slums

A thief with a gift for unlikely escapes

Kaz's crew is the only thing that might stand between the world and destruction—if they don't kill each other first.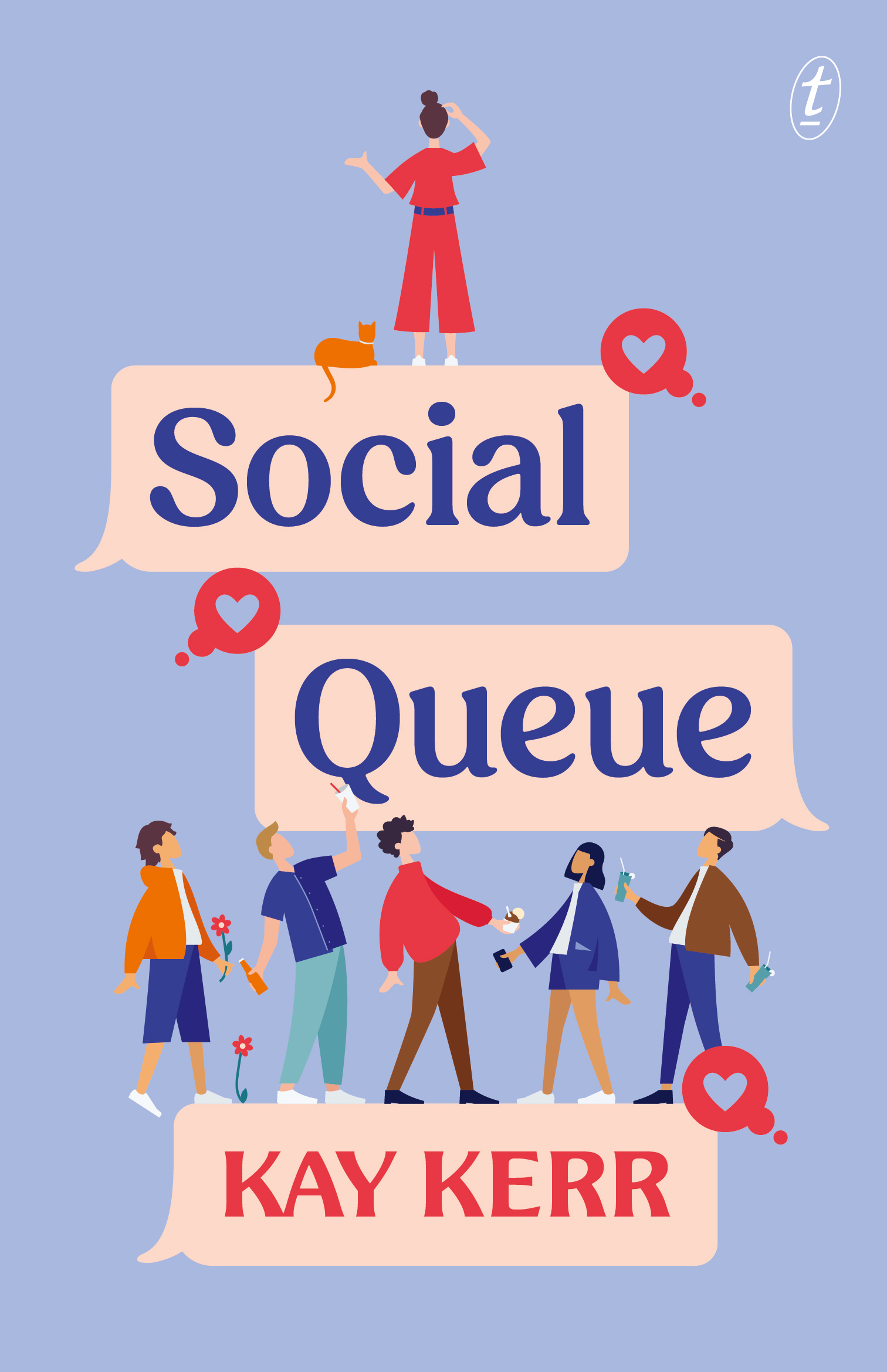 🌹 genre: YA contemporary
🌟 rep: autistic MC
🔖 confirmed #ownvoices
👑 releases: October 2021
I thought I was nobody's teen crush, but turns out I was just missing the signs.

Zoe Kelly is starting a new phase of her life. High school was a mess of bullying and autistic masking that left her burnt out and shut down. Now, with an internship at an online media company—the first step on the road to her dream writing career—she is ready to reinvent herself. But she didn't count on returning to her awkward and all-too-recent high-school experiences for her first writing assignment.

When her piece, about her non-existent dating life, goes viral, eighteen-year-old Zoe is overwhelmed and more than a little surprised by the response. But, with a deadline and a list of romantic contenders from the past to reconnect with for her piece on dating, she is hoping one of her old sparks will turn into a new flame.

Social Queue is a funny and heart-warming autistic story about deciphering the confusing signals of attraction and navigating a path to love.
Starfish by Akemi Dawn Bowman
🌹 genre: YA contemporary
🌟 rep: MC with social anxiety
🔖 confirmed #ownvoices
🌿 also #ownvoices for biracial (half-Japanese, half-white) and abuse rep
A half-Japanese teen grapples with social anxiety and her narcissist mother in the wake of a crushing rejection from art school in this debut novel.

Kiko Himura has always had a hard time saying exactly what she's thinking. With a mother who makes her feel unremarkable and a half-Japanese heritage she doesn't quite understand, Kiko prefers to keep her head down, certain that once she makes it into her dream art school, Prism, her real life will begin.

But then Kiko doesn't get into Prism, at the same time her abusive uncle moves back in with her family. So when she receives an invitation from her childhood friend to leave her small town and tour art schools on the west coast, Kiko jumps at the opportunity in spite of the anxieties and fears that attempt to hold her back. And now that she is finally free to be her own person outside the constricting walls of her home life, Kiko learns life-changing truths about herself, her past, and how to be brave.

From debut author Akemi Dawn Bowman comes a luminous, heartbreaking story of identity, family, and the beauty that emerges when we embrace our true selves.
🌹 genre: YA fantasy
🌟 rep: MC with a clubfoot & chronic pain
I did not choose this fate. But I will not walk away from it.

Children have been disappearing from across Menaiya for longer than Amraeya ni Ansarim can remember. When her friend's sister is snatched, Rae knows she can't look away any longer – even if that means seeking answers from the royal court, where her country upbringing and clubfoot will only invite ridicule.

Yet the court holds its share of surprises. There she discovers an ally in the foreign princess, who recruits her as an attendant. Armed with the princess's support, Rae seeks answers in the dark city streets, finding unexpected help in a rough-around-the-edges street thief with secrets of his own. But treachery runs deep, and the more Rae uncovers, the more she endangers the kingdom itself.
🌹 genre: YA contemporary
🌟 rep: MC with anorexia
I'm not sure if eating disorders are (legally) classified as disabilities, but they do seem to match the ADA's definition of what a disability is, so I'm including this book on the list. Especially since it raises awareness about an important message—eating disorders can and do affect young men!
Mike Welles had everything under control. But that was before. Now things are rough at home, and they're getting confusing at school. He's losing his sense of direction, and he feels like he's a mess. Then there's a voice in his head. A friend, who's trying to help him get control again. More than that—the voice can guide him to become faster and stronger than he was before, to rid his life of everything that's holding him back. To figure out who he is again. If only Mike will listen.
🌹 genre: YA contemporary romance
🌟 rep: MC with cerebral palsy
Annie is starting college. She can't wait. No more school, no more uniform, and no one telling her what to do. It's the start of a new adventure and Annie's not going to let anyone or anything get in the way of that. Freedom matters to Annie. She has cerebral palsy and she's had to fight hard to get the world to see her for who she truly is.

Then she meets Fab. He's six foot two, Polish and a passionate believer in…well, just about everything, but most of all Annie and good old fashioned romance. The moment Fab sees Annie, he's wildly drawn to her and declares she must be his girl. Annie's horrified. She doesn't want to be anyone's anything, especially if it means losing her independence.

But then Annie finds herself falling for Fab. As things go deeply wrong, Annie realises that love can make you do wild, crazy things, and so she sets out to win his heart with a romantic gesture of truly epic proportions!
🌹 genre: YA contemporary
🌟 rep: MC with anxiety & OCD
🔖 confirmed #ownvoices
Sixteen-year-old Aza never intended to pursue the mystery of fugitive billionaire Russell Pickett, but there's a hundred-thousand-dollar reward at stake and her Best and Most Fearless Friend, Daisy, is eager to investigate. So together, they navigate the short distance and broad divides that separate them from Russell Pickett's son, Davis.

Aza is trying. She is trying to be a good daughter, a good friend, a good student, and maybe even a good detective, while also living within the ever-tightening spiral of her own thoughts.
🌹 genre: YA contemporary romance
🌟 rep: MC with anxiety & agoraphobia
At seventeen, Norah has accepted that the four walls of her house delineate her life. She knows that fearing everything from inland tsunamis to odd numbers is irrational, but her mind insists the world outside is too big, too dangerous. So she stays safe inside, watching others' lives through her windows and social media feed.

But when Luke arrives on her doorstep, he doesn't see a girl defined by medical terms and mental health. Instead, he sees a girl who is funny, smart, and brave. And Norah likes what he sees.

Their friendship turns deeper, but Norah knows Luke deserves a normal girl. One who can walk beneath the open sky. One who is unafraid of kissing. One who isn't so screwed up. Can she let him go for his own good—or can Norah learn to see herself through Luke's eyes?
🌹 genre: YA contemporary romance
🌟 rep: MC with OCD; side characters with various forms of OCD/anxiety
When Adam meets Robyn at a support group for kids coping with obsessive-compulsive disorder, he is drawn to her almost before he can take a breath. He's determined to protect and defend her–to play Batman to her Robyn–whatever the cost. But when you're fourteen and the everyday problems of dealing with divorced parents and step-siblings are supplemented by the challenges of OCD, it's hard to imagine yourself falling in love. How can you have a "normal" relationship when your life is so fraught with problems? And that's not even to mention the small matter of those threatening letters Adam's mother has started to receive . . .
🌹 genre: upper-YA/NA contemporary romance
🌟 rep: autistic MC; love interest with brittle bone disease & PTSD who walks with a cane
🔖 confirmed #ownvoices (for autism)
Obviously I'm not what most people would describe as happy. But that has nothing to do with anything. Happiness is not a priority. Survival is.

Alvie Fitz doesn't fit in, and she doesn't care. She's spent years swallowing meds and bad advice from doctors and social workers. Adjust, adapt. Pretend to be normal. It sounds so easy.

If she can make it to her eighteenth birthday without any major mishaps, she'll be legally emancipated. Free. But if she fails, she'll become a ward of the state and be sent back to the group home.

All she wants is to be left alone to spend time with her friend, Chance, the one-winged hawk at the zoo where she works. She can bide her time with him until her emancipation. Humans are overrated anyway. Then she meets Stanley, a boy who might be even stranger than she is—a boy who walks with a cane, who turns up every day with a new injury, whose body seems as fragile as glass. Without even meaning to, she finds herself getting close to him. But Alvie remembers what happened to the last person she truly cared about.

Her past stalks her with every step, and it has sharp teeth. But if she can find the strength to face the enemy inside her, maybe she'll have a chance at happiness after all.
🌹 genre: YA contemporary romance
🌟 rep: bed-bound MC with an unnamed chronic illness
🔖 confirmed #ownvoices (I think? not 100% sure though)
Alice may be bed-bound, but that doesn't stop her from going outside. Every day, she logs into Stream Cast and experiences the outside world by watching other people live wonderful and exciting lives. But when one of the streamers is killed in a cycling accident, Alice is introduced to a new streamer.

Rowan sees beauty in the everyday and encourages her to stop watching, and start taking control. But Rowan too has a secret he's trying to hide from Alice – and from himself.

As Alice and Rowan build a bigger and more beautiful world together, outside forces threaten to bring this new world to an end.
🌹 genre: YA contemporary
🌟 rep: MC with psychosis
What if finding her means losing himself?

Seventeen-year-old Bo has always had delusions that he can travel through time. When he was ten, Bo claimed to have witnessed the Titanic hit an iceberg, and at fifteen, he found himself on a Civil War battlefield, horrified by the bodies surrounding him. So when his worried parents send him to a school for troubled youth, Bo assumes he knows the truth: that he's actually attending Berkshire Academy, a school for kids who, like Bo, have "superpowers."

At Berkshire, Bo falls in love with Sofía, a quiet girl with a tragic past and the superpower of invisibility. Sofía helps Bo open up in a way he never has before. In turn, Bo provides comfort to Sofía, who lost her mother and two sisters at a very young age.

But even the strength of their love isn't enough to help Sofía escape her deep depression. After she commits suicide, Bo is convinced that she's not actually dead. He believes that she's stuck somewhere in time—that he somehow left her in the past, and that now it's his job to save her. And as Bo becomes more and more determined to save Sofía, he must decide whether to face his demons head-on or succumb to a psychosis that will let him be with the girl he loves.
🌹 genre: YA contemporary romance
🌟 rep: both MCs are disabled; one of them has cerebral palsy
🔖 confirmed #ownvoices (for cerebral palsy)
👑 releases: Summer 2022
And that's it for today! I have a whole separate list of MG books with disability rep, so let me know if you'd like to read that one as well! I'm more than open to posting a part 2 😊
I'd love to know what you think of this post in the comments! Have you read any of these books and if so, what did you think? Are any of them on your TBR? And if you have any other recommendations with disability rep, feel free to drop them down below! Thanks so much for reading, everyone 🥰