Hello everyone and welcome back!! I hope you've all been enjoying your December thus far. As per my promise to not disappear this month like I did in November, I have returned with another post!
As we all know, 2020 has been a handful. There's no guarantee that 2021 will be any better, but I think I speak for everyone when I say we're all looking forward to starting on the clean slate that is a brand new year. In recognition of that, today I want to share with you my 23 most anticipated YA releases for 2021! I'm not going to pretend that I'll have read all of these by the end of next year, but hey, a girl can dream. 😅
There are several series continuations on this list, so I'll be leaving the blurbs for those books in a dropdown. I've lost count of the times that I've been spoiled for a series by accidentally reading the blurb of a later book… so you're welcome for sparing you that experience 😂
So without further ado, here are the books I'm most excited for in 2021!
Concrete Rose (The Hate U Give #0) by Angie Thomas (January 12)
International phenomenon Angie Thomas revisits Garden Heights seventeen years before the events of The Hate U Give in this searing and poignant exploration of Black boyhood and manhood.

If there's one thing seventeen-year-old Maverick Carter knows, it's that a real man takes care of his family. As the son of a former gang legend, Mav does that the only way he knows how: dealing for the King Lords. With this money he can help his mom, who works two jobs while his dad's in prison.

Life's not perfect, but with a fly girlfriend and a cousin who always has his back, Mav's got everything under control.

Until, that is, Maverick finds out he's a father.

Suddenly he has a baby, Seven, who depends on him for everything. But it's not so easy to sling dope, finish school, and raise a child. So when he's offered the chance to go straight, he takes it. In a world where he's expected to amount to nothing, maybe Mav can prove he's different.

When King Lord blood runs through your veins, though, you can't just walk away. Loyalty, revenge, and responsibility threaten to tear Mav apart, especially after the brutal murder of a loved one. He'll have to figure out for himself what it really means to be a man. (Goodreads)
The Hate U Give is the definition of iconic, and I absolutely loved it when I read it a while back!! The blurb for Concrete Rose immediately caught my eye since Mav was one of my favorite characters from THUG 😊 I have no doubt Angie Thomas will do his story justice!
Cast in Firelight by Dana Swift (January 19)
The first book in an epic, heart-pounding fantasy duology about two royal heirs betrothed to be married, but whose loyalties are torn, and a ruthless enemy who threatens their world, perfect for fans of Sabaa Tahir, Hafsah Faizal, and Renée Ahdieh.

Adraa is the royal heir of Belwar, a talented witch on the cusp of taking her royal ceremony test, and a girl who just wants to prove her worth to her people.

Jatin is the royal heir to Naupure, a competitive wizard who's mastered all nine colors of magic, and a boy anxious to return home for the first time since he was a child.

Together, their arranged marriage will unite two of Wickery's most powerful kingdoms. But after years of rivalry from afar, Adraa and Jatin only agree on one thing: their reunion will be anything but sweet.

Only, destiny has other plans and with the criminal underbelly of Belwar suddenly making a move for control, their paths cross…and neither realizes who the other is, adopting separate secret identities instead.

Between dodging deathly spells and keeping their true selves hidden, the pair must learn to put their trust in the other if either is to uncover the real threat. Now Wickery's fate is in the hands of rivals..? Fiancées..? Partners..? Whatever they are, it's complicated and bound for greatness or destruction. (Goodreads)
Ahhhh what is that blurb?!?? Rivals-to-lovers?? Magic?? Secret identities?? Conflicting loyalties?? Yesss give it to meeee 🤩 I'm also hoping for some political intrigue, which seems likely, with the arranged marriage and all. Ahhhhh.
Quick disclaimer that this book is not #OwnVoices! The author says in her Goodreads review that she was inspired by her husband's family's culture and their conversations about what it means to be an interracial couple. Read her full post here for more info and trigger warnings!
We Free the Stars (Sands of Arawiya #2) by Hafsah Faizal (January 19)
SPOILERY BLURB: The sequel to the New York Times–bestselling We Hunt the Flame, Zafira and Nasir must conquer the darkness around—and inside of—them…

The battle on Sharr is over. The dark forest has fallen. Altair may be captive, but Zafira, Nasir, and Kifah are bound for Sultan's Keep, determined to finish the plan he set in motion: restoring the hearts of the Sisters of Old to the minarets of each caliphate, and finally returning magic to all of Arawiya. But they are low on resources and allies alike, and the kingdom teems with fear of the Lion of the Night's return.

As the zumra plots to overthrow the kingdom's darkest threat, Nasir fights to command the magic in his blood. He must learn to hone his power into a weapon, to wield not only against the Lion but against his father, trapped under the Lion's control. Zafira battles a very different darkness festering in her through her bond with the Jawarat—a darkness that hums with voices, pushing her to the brink of her sanity and to the edge of a chaos she dare not unleash. In spite of the darkness enclosing ever faster, Nasir and Zafira find themselves falling into a love they can't stand to lose…but time is running out to achieve their ends, and if order is to be restored, drastic sacrifices will have to be made.

Lush and striking, hopeful and devastating, We Free the Stars is the masterful conclusion to the Sands of Arawiya duology by New York Times–bestselling author Hafsah Faizal. (Goodreads)

I wasn't too impressed when I finally picked up We Hunt the Flame this February, mostly due to various plotting/pacing issues. But I know that it means a lot to many #OwnVoices reviewers, so I'm hoping that the second book is better and continuing with the series. Plus who could refuse that cover and title? 😍
A Vow So Bold and Deadly (Cursebreakers #3) by Brigid Kemmerer (January 26)
SPOILERY BLURB:

Face your fears, fight the battle. Fight the battle, save the kingdom…

Emberfall is crumbling fast, torn between those who believe Rhen is the rightful prince and those who are eager to begin a new era under Grey, the true heir. Grey has agreed to wait two months before attacking Emberfall, and in that time, Rhen has turned away from everyone—even Harper, as she desperately tries to help him find a path to peace.Meanwhile, Lia Mara struggles to rule Syhl Shallow with a gentler hand than her mother. But after enjoying decades of peace once magic was driven out of their lands, some of her subjects are angry Lia Mara has an enchanted prince and magical scraver by her side. As Grey's deadline draws nearer, Lia Mara questions if she can be the queen her country needs.

As two kingdoms come closer to conflict, loyalties are tested, love is threatened, and an old enemy resurfaces who could destroy them all, in this stunning conclusion to bestselling author Brigid Kemmerer's Cursebreaker series. (Goodreads)

AHHHHH
AHHHHH
AHHHHH
Oh my goshhhh I am beyond hyped for this book!! Book 2 seems to have been either a big hit or a big miss for most readers — I remain firmly in the former group. This series was the one that essentially thrust me into the book blogging world, so it means a lot to me… plus I'm in love with all the characters 😱🥰 I NEED to see how the conclusion plays out!!
Written in Starlight (Woven in Moonlight #2) by Isabel Ibañez (January 26)
SLIGHTLY SPOILERY BLURB: An adventerous South American Tomb Raider…

This hotly anticipated companion to Woven in Moonlight follows an outcast Condesa, as she braves the jungle to forge an alliance with the lost city of gold.

If the jungle wants you, it will have you…

Catalina Quiroga is a Condesa without a country. She's lost the Inkasisa throne, the loyalty of her people, and her best friend. Banished to the perilous Yanu Jungle, Catalina knows her chances of survival are slim, but that won't stop her from trying to escape. It's her duty to reclaim the throne.

When Manuel, the son of her former general, rescues Catalina from a jaguar, a plan forms. Deep in the jungle, the city of gold is hidden, home to the fierce Illari people, who she could strike an alliance with.

But the elusive Illari are fighting a battle of their own—a mysterious blight is corrupting the jungle, laying waste to everything they hold dear. As a seer, Catalina should be able to help, but her ability to read the future in the stars is as feeble as her survival instincts. While searching for the Illari, Catalina must reckon with her duty and her heart to find her true calling, which could be the key to stopping the corruption before it destroys the jungle completely. (Goodreads)

Can we take a moment to admire that cover. Goodness 😍
Woven in Moonlight was one of my unexpected 2020 favorites, and I can't wait for the companion novel!! The fact that this book focuses on Catalina is practically a 100% guarantee that we'll get some first-rate character development… which I am always here for!!!
A Pho Love Story by Loan Le (February 9)
When Dimple Met Rishi meets Ugly Delicious in this funny, smart romantic comedy, in which two Vietnamese-American teens fall in love and must navigate their newfound relationship amid their families' age-old feud about their competing, neighboring restaurants.

If Bao Nguyen had to describe himself, he'd say he was a rock. Steady and strong, but not particularly interesting. His grades are average, his social status unremarkable. He works at his parents' pho restaurant, and even there, he is his parents' fifth favorite employee. Not ideal.

If Linh Mai had to describe herself, she'd say she was a firecracker. Stable when unlit, but full of potential for joy and fire. She loves art and dreams pursuing a career in it. The only problem? Her parents rely on her in ways they're not willing to admit, including working practically full-time at her family's pho restaurant.

For years, the Mais and the Nguyens have been at odds, having owned competing, neighboring pho restaurants. Bao and Linh, who've avoided each other for most of their lives, both suspect that the feud stems from feelings much deeper than friendly competition.

But then a chance encounter brings Linh and Bao in the same vicinity despite their best efforts and sparks fly, leading them both to wonder what took so long for them to connect. But then, of course, they immediately remember.

Can Linh and Bao find love in the midst of feuding families and complicated histories? (Goodreads)
The vibe I'm getting from this blurb is a Vietnamese-American Romeo and Juliet but with pho — which is delicious, by the way — and less tragedy. Um, yes please?
Also I'm already feeling ultra-protective of Bao. So much for crushing on fictional characters in moderation.
The Bright and the Pale by Jessica Rubinkowski (March 2)
Seventeen-year-old Valeria is one of the only survivors of the freeze, a dark magical hold Knnot Mountain unleashed over her village. Everyone, including her family, is trapped in an unbreakable sheet of ice. Ever since, she's been on the run from the Czar, who is determined to imprison any who managed to escape. Valeria finds refuge with the Thieves Guild, doing odd jobs with her best friend Alik, the only piece of home she has left.

That is, until he is brutally murdered.

A year later, she discovers Alik is alive and being held against his will. To buy his freedom, she must lead a group of cutthroats and thieves on a perilous expedition to the very mountain that claimed her family. Only something sinister slumbers in the heart of Knnot.

And it has waited years for release.

CW: death of a family member, discrimination, childhood trauma, work camps (Goodreads)
Will you look at that dramatic blurb my goodness. A sinister mountain, potential friends-to-lovers (!! 😍), gorgeous cover… what's not to love??
Firekeeper's Daughter by Angeline Boulley (March 2)
Debut author Angeline Boulley crafts a groundbreaking YA thriller about a Native teen who must root out the corruption in her community, for readers of Angie Thomas and Tommy Orange.

As a biracial, unenrolled tribal member and the product of a scandal, eighteen-year-old Daunis Fontaine has never quite fit in, both in her hometown and on the nearby Ojibwe reservation. Daunis dreams of studying medicine, but when her family is struck by tragedy, she puts her future on hold to care for her fragile mother.

The only bright spot is meeting Jamie, the charming new recruit on her brother Levi's hockey team. Yet even as Daunis falls for Jamie, certain details don't add up and she senses the dashing hockey star is hiding something. Everything comes to light when Daunis witnesses a shocking murder, thrusting her into the heart of a criminal investigation.

Reluctantly, Daunis agrees to go undercover, but secretly pursues her own investigation, tracking down the criminals with her knowledge of chemistry and traditional medicine. But the deceptions—and deaths—keep piling up and soon the threat strikes too close to home.

Now, Daunis must learn what it means to be a strong Anishinaabe kwe (Ojibwe woman) and how far she'll go to protect her community, even if it tears apart the only world she's ever known. (Goodreads)
NATIVE TEENS IN YA?!?? AHHHHH YES. I don't read thrillers like ever, but this book seems worth going out of my comfort zone for.
Sing Me Forgotten by Jessica S. Olson (March 9)
Isda does not exist. At least not beyond the opulent walls of the opera house.

Cast into a well at birth for being one of the magical few who can manipulate memories when people sing, she was saved by Cyril, the opera house's owner. Since that day, he has given her sanctuary from the murderous world outside. All he asks in return is that she use her power to keep ticket sales high—and that she stay out of sight. For if anyone discovers she survived, Isda and Cyril would pay with their lives.

But Isda breaks Cyril's cardinal rule when she meets Emeric Rodin, a charming boy who throws her quiet, solitary life out of balance. His voice is unlike any she's ever heard, but the real shock comes when she finds in his memories hints of a way to finally break free of her gilded prison.

Haunted by this possibility, Isda spends more and more time with Emeric, searching for answers in his music and his past. But the price of freedom is steeper than Isda could ever know. For even as she struggles with her growing feelings for Emeric, she learns that in order to take charge of her own destiny, she must become the monster the world tried to drown in the first place. (Goodreads)
So… this is a gender-flipped Phantom retelling. There's a romance between a grumpy girl and sunshiney boy. It takes place in a literal opera house. It stars a complex, slightly messed-up heroine.
Hmm. *deep breath*
WHERE ON EARTH IS THE DOTTED LINE I MUST SIGN UP FOR THIS MASTERPIECE
When We Were Infinite by Kelly Loy Gilbert (March 9)
From award-winning author Kelly Loy Gilbert comes a powerful, achingly romantic drama about the secrets we keep, from each other and from ourselves, perfect for fans of Permanent Record and I Am Not Your Perfect Mexican Daughter.

All Beth wants is for her tight-knit circle of friends—Grace Nakamura, Brandon Lin, Sunny Chen, and Jason Tsou—to stay together. With her family splintered and her future a question mark, these friends are all she has—even if she sometimes wonders if she truly fits in with them. Besides, she's certain she'll never be able to tell Jason how she really feels about him, so friendship will have to be enough.

Then Beth witnesses a private act of violence in Jason's home, and the whole group is shaken. Beth and her friends make a pact to do whatever it takes to protect Jason, no matter the sacrifice. But when even their fierce loyalty isn't enough to stop Jason from making a life-altering choice, Beth must decide how far she's willing to go for him—and how much of herself she's willing to give up. (Goodreads)
Based on the blurb, this author could use this premise to explore a lot of different themes — abuse? Mental health? Friendship? Growing up? I'm here to read about any and all of those things so… yes 🙌
Also, seeing that the last names of Beth's friends are all Asian made me so happy it's ridiculous.
The Half-Orphan's Handbook by Joan F. Smith (April 6)
For fans of John Green and Emily X.R. Pan, The Half-Orphan's Handbook is a coming-of-age story and an empathetic, authentic exploration of grief with a sharp sense of humor and a big heart.

It's been three months since Lila lost her father to suicide. Since then, she's learned to protect herself from pain by following two unbreakable rules:

1. The only people who can truly hurt you are the ones you love. Therefore, love no one.
2. Stay away from liars. Liars are the worst.

But when Lila's mother sends her to a summer-long grief camp, it's suddenly harder for Lila to follow these rules. Potential new friends and an unexpected crush threaten to drag her back into life for the first time since her dad's death.

On top of everything, there's more about what happened that Lila doesn't know, and facing the truth about her family will be the hardest part of learning how a broken heart can love again. (Goodreads)
This blurb kind of reminds me of What I Carry by Jennifer Longo, which I read earlier this year… it wasn't the best book I've read, but judging by how much that one made me cry? This book is going to destroy me, and I welcome the pain. Masochist who?
Somewhere Between Bitter and Sweet by Laekan Zea Kemp (April 6)
I'm Not Your Perfect Mexican Daughter meets Emergency Contact in this stunning story of first love, familial expectations, the power of food, and finding where you belong.

As an aspiring pastry chef, Penelope Prado has always dreamed of opening her own pastelería next to her father's restaurant, Nacho's Tacos. But her mom and dad have different plans — leaving Pen to choose between disappointing her traditional Mexican-American parents or following her own path. When she confesses a secret she's been keeping, her world is sent into a tailspin. But then she meets a cute new hire at Nacho's who sees through her hard exterior and asks the questions she's been too afraid to ask herself.

Xander Amaro has been searching for home since he was a little boy. For him, a job at Nacho's is an opportunity for just that — a chance at a normal life, to settle in at his abuelo's, and to find the father who left him behind. But when both the restaurant and Xander's immigrant status are threatened, he will do whatever it takes to protect his new found family and himself.

Together, Pen and Xander must navigate first love and discovering where they belong — both within their families and their fiercely loyal Chicanx community — in order to save the place they all call home. (Goodreads)
Awww this blurb 🥰 First love? Family? Finding where you belong? Immigrant status? THE POWER OF FOOD?? I would be crazy to turn this one down.
The Forest of Stolen Girls by June Hur (April 20)
After her father vanishes while investigating the disappearance of 13 young women, a teen returns to her secretive hometown to pick up the trail in this second YA historical mystery from the author of The Silence of Bones.

Hwani's family has never been the same since she and her younger sister went missing and were later found unconscious in the forest, near a gruesome crime scene. The only thing they remember: Their captor wore a painted-white mask.

To escape the haunting memories of this incident, the family flees their hometown. Years later, Detective Min—Hwani's father—learns that thirteen girls have recently disappeared under similar circumstances, and so he returns to their hometown to investigate… only to vanish as well.

Determined to find her father and solve the case that tore their family apart, Hwani returns home to pick up the trail. As she digs into the secrets of the small village—and reconnects with her now estranged sister—Hwani comes to realize that the answer lies within her own buried memories of what happened in the forest all those years ago. (Goodreads)
June Hur became an auto-buy author after I picked up her debut The Silence of Bones and absolutely loved it. And her next book sounds just as good, if not better??!?! This one is set in 1426 Korea, which isn't a period I know much about… and ahhh another detective?? SO EXCITED.
Blade of Secrets by Tricia Levenseller (May 4)
A teenage blacksmith with social anxiety accepts a commission from the wrong person and is forced to go on the run to protect the world from the most powerful magical sword she's ever made.

Eighteen-year-old Ziva prefers metal to people. She spends her days tucked away in her forge, safe from society and the anxiety it causes her, using her magical gift to craft unique weapons imbued with power.

Then Ziva receives a commission from a powerful warlord, and the result is a sword capable of stealing its victims' secrets. A sword that can cut far deeper than the length of its blade. A sword with the strength to topple kingdoms. When Ziva learns of the warlord's intentions to use the weapon to enslave all the world under her rule, she takes her sister and flees.

Joined by a distractingly handsome mercenary and a young scholar with extensive knowledge of the world's known magics, Ziva and her sister set out on a quest to keep the sword safe until they can find a worthy wielder or a way to destroy it entirely. (Goodreads)
"A teenage blacksmith with social anxiety." That's it. That's all I needed to know.
Well, other than the fact that the author is Tricia Levenseller. I really enjoyed The Shadows Between Us, so I'm looking forward to reading more of her work through this new duology.
Realm Breaker by Victoria Aveyard (May 4)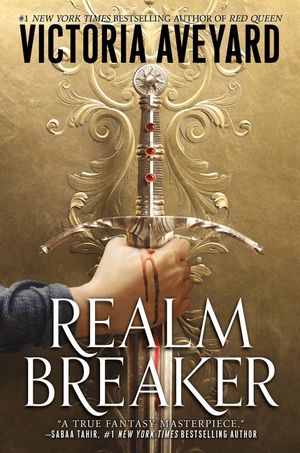 Irresistibly action-packed and full of lethal surprises, this stunning new fantasy series from Victoria Aveyard, #1 New York Times bestselling author of the Red Queen series, begins where hope is lost and asks: When the heroes have fallen, who will take up the sword?

A strange darkness grows in Allward.

Even Corayne an-Amarat can feel it, tucked away in her small town at the edge of the sea.

She soon discovers the truth: She is the last of an ancient lineage—and the last hope to save the world from destruction. But she won't be alone. Even as darkness falls, she is joined by a band of unlikely companions:

A squire, forced to choose between home and honor.
An immortal, avenging a broken promise.
An assassin, exiled and bloodthirsty.
An ancient sorceress, whose riddles hide an eerie foresight.
A forger with a secret past.
A bounty hunter with a score to settle.

Together they stand against a vicious opponent, invincible and determined to burn all kingdoms to ash, and an army unlike anything the realm has ever witnessed. (Goodreads)
Half of the pre-reviews on Goodreads are either people salty over how bad Red Queen was, and the other half are people raving over how good it was. I personally haven't read the Red Queen series, nor do I plan to, but the blurb for her next work immediately caught my attention. Maybe it's just my Six of Crows hangover speaking for me, but "a band of unlikely companions" sounds really appealing.
Made in Korea by Sarah Suk (May 18)
Frankly in Love meets Shark Tank in this feel-good romantic comedy about two entrepreneurial Korean American teens who butt heads—and maybe fall in love—while running competing Korean beauty businesses at their high school.

There's nothing Valerie Kwon loves more than making a good sale. Together with her cousin Charlie, they run V&C K-BEAUTY, their school's most successful student-run enterprise. With each sale, Valerie gets closer to taking her beloved and adventurous halmeoni to her dream city, Paris.

Enter the new kid in class, Wes Jung, who is determined to pursue music after graduation despite his parents' major disapproval. When his classmates clamor to buy the K-pop branded beauty products his mom gave him to "make new friends," he sees an opportunity—one that may be the key to help him pay for the music school tuition he knows his parents won't cover…

What he doesn't realize, though, is that he is now V&C K-BEAUTY's biggest competitor.

Stakes are high as Valerie and Wes try to outsell each other, make the most money, and take the throne for the best business in school—all while trying to resist the undeniable spark that's crackling between them. From hiring spies to all-or-nothing bets, the competition is much more than either of them bargained for.

But one thing is clear: only one Korean business can come out on top. (Goodreads)
HAHAHA I LOVE THIS PREMISE. I didn't know I needed a Korean-American rom-com centered around beauty products in my life until this blurb happened. Also, halmeoni means grandmother in Korean, if any of you were wondering about that!
A Psalm of Storms and Silence (A Song of Wraiths and Ruin #2) by Roseanne A. Brown (June 1)
SPOILERY BLURB:

The highly-anticipated second—and final—book in the immersive fantasy duology inspired by West African folklore that began with the New York Times bestselling A Song of Wraiths and Ruin, from author Roseanne A. Brown…

Months have passed since the violent coup that upended Princess Karina's life. She is now a fugitive racing across the desert to sanctuary in the Arkwasian Jungle, where she hopes to find allies to help her reclaim her kingdom from her adopted brother's clutches.

Meanwhile, Malik's illusion magic is flourishing under Farid's tutelage, but the bonds keeping the Faceless King trapped in his mind are weakening. His quest to best the spirit once and for all leads him deep into the dark history of his own ancestors, with an unlikely ally by his side—Princess Hanane, Karina's resurrected sister, who hides more secrets than even she realizes.

As the fabric holding Sonande together begins to tear, Malik and Karina once again find themselves on opposite sides of an ever-worsening conflict, even as their connection flares to a breaking point. And when the fate of the world hangs on a single, horrifying choice, they each must decide what they value most—a power that could transform the world, or a love that could transform their lives. (Goodreads)

I ADORED A Song of Wraiths and Ruin when I read it this year, and I need the sequel ASAP. After that humongous cliffhanger?? It's a wonder I've survived this long.
We Can't Keep Meeting Like This by Rachel Lynn Solomon (June 1)
A wedding harpist disillusioned with love and a hopeless romantic cater-waiter flirt and fight their way through a summer of weddings in this effervescent romantic comedy from the acclaimed author of Today Tonight Tomorrow.

Quinn Berkowitz and Tarek Mansour's families have been in business together for years: Quinn's parents are wedding planners, and Tarek's own a catering company. At the end of last summer, Quinn confessed her crush on him in the form of a rambling email—and then he left for college without a response.

Quinn has been dreading seeing him again almost as much as she dreads another summer playing the harp for her parents' weddings. When he shows up at the first wedding of the summer, looking cuter than ever after a year apart, they clash immediately. Tarek's always loved the grand gestures in weddings—the flashier, the better—while Quinn can't see them as anything but fake. Even as they can't seem to have one civil conversation, Quinn's thrown together with Tarek wedding after wedding, from performing a daring cake rescue to filling in for a missing bridesmaid and groomsman.

Quinn can't deny her feelings for him are still there, especially after she learns the truth about his silence, opens up about her own fears, and begins learning the art of harp-making from an enigmatic teacher.

Maybe love isn't the enemy after all—and maybe allowing herself to fall is the most honest thing Quinn's ever done. (Goodreads)
This blurb is just so adorable. And ugh that purple pastel cover is so prettyyy 😍
Daughter of Sparta by Claire M. Andrews (June 8)
Sparta forged her into a deadly weapon. Now the Gods need her to save the world!

Seventeen-year-old Daphne has spent her entire life honing her body and mind into that of a warrior, hoping to be accepted by the unyielding people of ancient Sparta. But an unexpected encounter with the goddess Artemis—who holds Daphne's brother's fate in her hands—upends the life she's worked so hard to build. Nine mysterious items have been stolen from Mount Olympus and if Daphne cannot find them, the gods' waning powers will fade away, the mortal world will descend into chaos, and her brother's life will be forfeit.

Guided by Artemis's twin-the handsome and entirely-too-self-assured god Apollo-Daphne's journey will take her from the labyrinth of the Minotaur to the riddle-spinning Sphinx of Thebes, team her up with mythological legends such as Theseus and Hippolyta of the Amazons, and pit her against the gods themselves.

A reinterpretation of the classic Greek myth of Daphne and Apollo, DAUGHTER OF SPARTA by debut author Claire Andrews turns the traditionally male-dominated mythology we know into a heart-pounding and empowering female-led adventure. (Goodreads)
This. This!! This is what I needed. Sparta?? Sibling relationships?? Quest?? Retelling?? UM, YES?? I'm so scared about the romance because I just looked up the myth of Daphne & Apollo, and the ending is… not ideal. UGH I CANNOT HANDLE ANOTHER TRAGIC GREEK MYTH — *cough* Hadestown *cough*
Rising Like a Storm (The Wrath of Ambar #2) by Tanaz Bhathena (June 22)
SPOILERY BLURB: In the concluding installment to the Wrath of Ambar duology from masterful author Tanaz Bhathena…

…Gul and Cavas must unite their magical forces―and hold onto their growing romance―to save their kingdom from tyranny.

With King Lohar dead and a usurper queen in power, Gul and Cavas face a new tyrannical government that is bent on killing them both. Their roles in King Lohar's death have not gone unnoticed, and the new queen is out for blood. What she doesn't know is that Gul and Cavas have a connection that runs deeper than romance, and together, they just might have the strength and magic to end her for good.

Then a grave mistake ends with Cavas taken prisoner by the government. Gul must train an army of warriors alone. With alliances shifting and the thirst for vengeance growing, the fate of Ambar seems ever more uncertain. It will take every ounce of strength, love, and sacrifice for Gul and Cavas to reach their final goal―and build a more just world than they've ever known. (Goodreads)

I was pretty disappointed by Hunted by the Sky, so I was initially a bit hesitant over whether or not to continue the series. But! That blurb! I need to know what happens to Cavas ahh 😱 That boy is too precious and if he gets hurt I will revolt.
XOXO by Axie Oh (July 13)
Cello prodigy Jenny has one goal: to get into a prestigious music conservatory. When she meets mysterious, handsome Jaewoo in her uncle's Los Angeles karaoke bar, it's clear he's the kind of boy who would uproot her careful plans. But in a moment of spontaneity, she allows him to pull her out of her comfort zone for one unforgettable night of adventure…before he disappears without a word.

Three months later, when Jenny and her mother arrive in South Korea to take care of her ailing grandmother, she's shocked to discover that Jaewoo is a student at the same elite arts academy where she's enrolled for the semester. And he's not just any student. He's a member of one of the biggest K-pop bands in the world—and he's strictly forbidden from dating.

When a relationship means throwing Jenny's life off the path she's spent years mapping out, she'll have to decide once and for all just how much she's willing to risk for love. (Goodreads)
GOODNESS AM I LOVING ALL OF THESE KOREAN-AMERICAN CONTEMPORARIES. Look at that cover!! That blurb!! Ahh!! I have a bunch of K-pop books on my TBR, but this is one of the few I'm really excited to get to 🤩 I love that we're getting the POV of a male K-pop artist, which seems to be rare in this sub-genre. And the romance promises to be absolutely swoon-worthy!! (Also, have I mentioned the cover?!)
Defy the Night by Brigid Kemmerer (September 7)
King Harristan rules Kandala with an iron fist. He's had to ever since he and his brother Prince Corrick inherited a kingdom on the verge of collapse after a deadly illness killed most of the population before a cure was found. The one thing keeping his people alive is also driving them apart . . . the cure, made from the nectar of a rare flower. As sickness lingers among the people of Kandala, a sharp divide has formed, as those who control access to the medicine live in luxury–while the rest live in suffering. The only way to keep the peace is to kill anyone who threatens it, and that task falls to young Prince Corrick.

Tessa Cade is a masked outlaw marked for death, but she likes it that way. At night, she and her best friend Weston Lark ride through the streets of the poorest towns, distributing food, money, and medicine they've stolen from the elite ruling class. Tessa has reason to hate the king: her parents were publicly executed after they were caught selling medicine on the black market. She has reason to love Weston: he saved her life when she nearly followed her parents to the same fate. She's come to hate the dawn, which signals that it's time for Weston to return to his home on the other side of the city, where he spends his days working in the grueling iron forge.

Lately, rumors have been spreading that the cure no longer works, and people are starting to act on their worst impulses. Tessa knows that the only way to save her people–the poor–is to assassinate King Harristan. It's a mission that is more likely to kill her than save anyone, but if her parents were willing to risk their lives, then so is she. What Tessa doesn't expect to find is that everything she believed about her kingdom is a lie, and that tipping the balance of power will require her to work with the very people she intended to destroy. . .

Set in a fantasy world startlingly similar to our own, Brigid Kemmerer's newest series illuminates the divide between those with power and those without. . . and what happens when someone is brave enough to flip the system upside down. (Goodreads)
More Kemmerer? Yes please ❤️ I can definitely see why the blurb says this one is "set in a fantasy world startlingly similar to our own" — "a deadly illness," anyone? And am I allowed to hope for another friends-to-lovers? Or is it going to be royalty-meets-outlaw? Whatever it is, I trust Brigid Kemmerer will do it right.
Untitled (Skyhunter #2) by Marie Lu (September 28)
No title, no cover, no blurb… (Goodreads)
After absolutely LOVING Skyhunter, I am desperate for the sequel. AND OH MY GOSH APPARENTLY WE'RE GETTING RED'S POV IN THIS BOOK AND AHHH HELP I'M SORT OF DYING. I NEED THIS YESTERDAY. 😱
That's it for today!! I hope you enjoyed me fangirling over books that haven't even been released yet, and I hope you added a bunch of books to your TBR *evil laugh* 😄
I'd love to know what you think in the comments below! What are your most anticipated releases for next year? Also, I just realized how few historical fiction books are on this list, so tell me all your anticipated HF releases are as well!! As always, thank you so much for reading! 💕